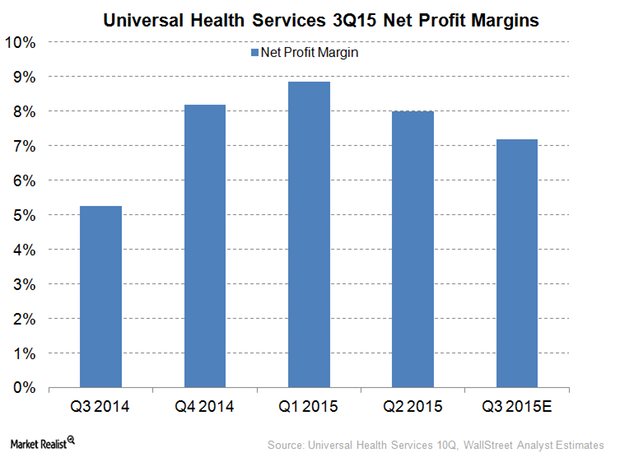 Universal Health Services' Net Profit Margin Expected to Rise
Net profit margins
Universal Health Services' (UHS) 3Q15 earnings will be announced on October 27, 2015. Wall Street analysts expect that the company will report higher net profit margins than those reported for 3Q14.
Article continues below advertisement
Estimates
According to Wall Street analysts' estimates, Universal Health Services will earn a net profit margin of ~7.2% in 3Q15, a rise of 1.9% over 3Q14's margin but a fall of 0.8% from 2Q15's margin. This projection is substantially higher than the net profit margins estimated by Wall Street analysts for peer companies Community Health Systems (CYH), HCA Holdings (HCA), and LifePoint Hospitals (LPNT) in 3Q15, amounting to 2.1%, 5.0%, and 3.2%, respectively.
Revenue and cost outlook
Wall Street Analysts have projected a revenue growth of 9.5% in 3Q15, compared to the company's revenues in 3Q14. This is attributed to projected strong performance of the company's acute care, as well as its behavioral health, business.
In addition to revenues, Universal Health Services' total costs have been stable and controlled. Despite an improving economy, the company has managed to control its personnel costs, a trend that's expected to continue in 3Q15. This is attributed to a rise in the supply of trained nurses and clinical staff, an aftermath of recession where many people exited unstable industries and joined schools offering training in activities related to healthcare.
To control expenses related to medical supplies, Universal Health Services plans to align physician incentives with optimal use of resources. While supply-related costs are currently stable, this strategy could further help in reducing unnecessary supply expenses. To know more about the breakup of Universal Health Services operating expenses, please refer to Exploring Universal Health Services' operating expenses
The Vanguard Health Care ETF (VHT) invests 0.4% of its portfolio in Universal Health Services.