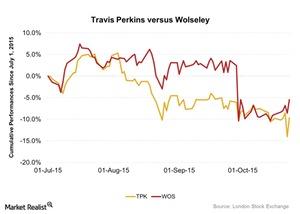 Travis Perkins Rebounded, Led EWU by 5.09%
Travis Perkins up by 5.1%
Stocks at the top of the iShares MSCI United Kingdom ETF (EWU) on Friday, October 23, 2015, were Travis Perkins (TPK), Shire (SHPG), and WPP. These stocks gained 5.1%, 4.4%, and 4.3%, respectively, on the day.
Travis Perkins was at the bottom on Thursday, October 22, after the company warned about its falling profits. Regardless of this, many analysts had a positive outlook for the company as well as for the construction industry. Travis Perkins is in trading and distribution of repairs, maintenance, and improvements components.
Citigroup (C) cited a less stretch valuation of Travis Perkins and thus rated the stock as a "buy." UBS (UBS) also maintained its "buy" rating on the stock, stating that the current stock price discounts the risk of the UK slowdown and carries a positive outlook toward the construction industry.
JPMorgan Chase (JPM) was also positive about the construction industry and reiterated that the industry is in recovery. The stock has earned 13 "buy" recommendations, eight "hold" recommendations, and two "sell" recommendations. S&P's debt rating for the company is "BB+" with a "stable" outlook.
Travis Perkins's peer company Wolseley (WOS) also gained 3.4% on October 23. The above graph shows the performances of Travis Perkins and Wolseley as of July 2015.
Article continues below advertisement
Article continues below advertisement
WPP, an advertising company, is regarded as a bright prospect in its industry. The company has some strong financials and the stock is inexpensive. The stock traded at 1,480 pounds sterling, crossing its respective 100-day, 50-day, and 20-day moving averages. It has earned 23 "buy," 12 "hold," and no "sell" recommendations. It is "BBB" rated and is a "stable" stock as per S&P.
Shire rose on the day after reporting its third quarter earnings, which beat market expectations. Shire, a pharmaceuticals company, also stated that it is pursuing its bid to buy Baxalta (BXLT), a US-based company. Baxalta (BXLT) gained 6.5% on Friday, October 23, 2015.
For the latest updates on corporate earnings, visit Market Realist's Post-Release Earnings Reports page.