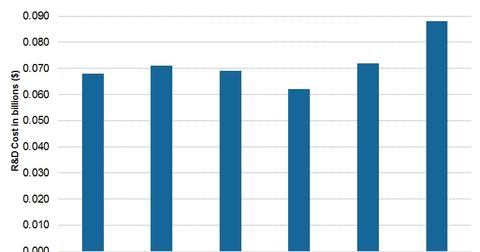 Reynolds American's Heritage of Innovation
By Penny Morgan

Updated
Research and development
Reynolds American (RAI) is one of the leading manufacturers and sellers of tobacco products in the United States. The company develops innovative products for adult smokers based on latest technologies and adult smoking trends. The company's R&D (research and development) expense for 2014 came in at $0.08 billion, 1.0% of net sales. The R&D expense increased 22.2% in 2014.
The increase was primarily due to more investment in the development of innovative products. Apart from VUSE e-vapor, the company also introduced innovations in cigarettes and moist snuff products. Reynolds American's subsidiaries R. J. Reynolds Tobacco Company, American Snuff Company, Santa Fe Natural Tobacco Company, and R. J. Reynolds Vapor Company drive innovations in products, packaging, equity-building, and promotions.
Article continues below advertisement
Recent innovations versus peers'
One of R. J. Reynolds Tobacco's innovations, Camel Crush, allows smokers to choose the level of menthol flavors in cigarettes on demand. This innovation increased Camel's menthol retail (XRT) market share 0.3 share points to 4.3% in 2014.
American Snuff's Grizzly Wide Cut Wintergreen was launched to reach adult smokers who prefer wider cut and long-lasting wintergreen flavor. Wintergreen styles and pouch offerings were key growth drivers of Grizzly's shipment volume.
Other companies like Altria Group (MO) and Imperial Tobacco Group (ITYBY) are also adding innovations to their smokeless tobacco product range. These companies produce Copenhagen (MO) and Skruf (ITYBY) smokeless tobacco products. .
Migration through innovation
The migration of adult smokers from traditional tobacco products to smoke-free tobacco products will lead to declining cigarettes volume. However. Reynolds American encourages this migration through the introduction of Camel Snus, heat-not-burn cigarettes, digital vapor cigarettes, and nicotine replacement therapy technologies.
Peers like British American Tobacco (BTI) and Philip Morris International (PM) also focus on innovative new tobacco and nicotine-based products. These include e-cigarettes, medicinal nicotine products, and tobacco heating products.
Reynolds American and Philip Morris International have exposure to the iShares S&P Growth ETF (IVW) with 0.2% and 0.7%[1. Updated as on September 10, 2015] of the total weight of the portfolio.