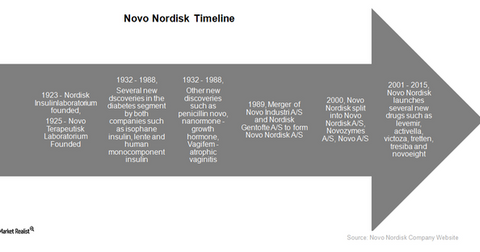 Novo Nordisk: An Investor's Guide to a Leading Biotech Company
By Margaret Patrick

Updated
Novo Nordisk, a leader in biotechnology
Based in Denmark, Novo Nordisk (NVO) is a leading biotechnology company. Its focus is developing solutions for diabetes care and other chronic conditions such as hemophilia, growth disorders, and obesity. Novo Nordisk has a market capitalization of $141.6 billion. Peers such as Gilead Sciences (GILD), Amgen (AMGN), and Celgene (CELG) have market capitalizations of $146.9 billion, $105 billion, and $85.7 billion, respectively.
Article continues below advertisement
Two original companies founded in 1923 and 1925
Novo Nordisk's history goes back to two small companies, Nordisk Insulinlaboratorium and Novo Terapeutisk Laboratorium, founded in 1923 and 1925, respectively. Both companies were focused on treating diabetes and other chronic health conditions.
Between 1932 and 1988, both companies witnessed several exciting discoveries in the field of diabetes, including isophane insulin, lente, monocomponent insulin, and human monocomponent insulin. Human monocomponent insulin was the first artificially prepared insulin identical to human insulin.
Innovative insulin delivery mechanisms such as NovoPen were also introduced in the market. Both companies also made significant progress in the treatment of other chronic diseases by discovering drugs such as Nanormon and Norditropin, which are growth hormones, and Vagifem used for atrophic vaginitis.
In 1989, the companies merged to form Novo Nordisk A/S, the leading insulin producer in the world. The merged company continued with its streak of innovations, including Novolet, the world's first prefilled insulin syringe, NovoSeven for hemophilia patients, Activelle for postmenopausal women, and Novonorm for type 2 diabetes.
In 2000, the company split into three separate companies: Novo Nordisk A/S, Novozymes A/S, and Novo A/S under the Novo Group. After the split, Novo Nordisk's stream of new discoveries continued with the launch of drugs such as Activella, Victoza, Vagifem, Tretten, Tresiba, and NovoEight.
The company continues to be a leader in diabetes care with 90 years of experience coupled with a strong workforce of 39,700 people in 75 countries around the world.
Investors can get diversified exposure to the strong diabetes portfolio of Novo Nordisk while avoiding company-specific risks by investing in the VanEck Vectors Pharmaceutical ETF (PPH). Novo Nordisk accounts for 5.05% of PPH's total holdings.