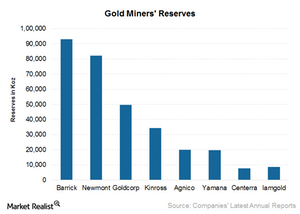 Must Know: An Overview of Kinross Gold Corp.
Company overview
Kinross Gold (KGC) is a Canada-based senior gold mining company. Kinross is engaged in the exploration, development, and production of gold. It has operations in Canada, the United States, Brazil, Chile, Ghana, Mauritania, and Russia.
Gold is produced in the form of doré, which is shipped to refineries for final processing. The company also produces and sells silver.
Article continues below advertisement
Operating segments
Kinross's operating segments are:
Fort Knox (United States)
Round Mountain (United States)
Kettle River–Buckhorn (United States)
Kupol (Russia)
Paracatu (Brazil)
Maricunga (Chile)
Tasiast (Mauritania)
Chirano (Ghana)
We'll discuss each of these segments in detail in the latter parts of this series.
Kinross had 33.4 million ounces (or moz) of gold reserves and 44 million ounces of silver as of December 2014.
Industry peers
Among its gold peers, Barrick Gold (ABX) has the highest reserves at 93 moz. Newmont Mining (NEM) has the second-highest reserve base with 82.2 million ounces, followed by Goldcorp (GG) with 49.6 million ounces. Yamana Gold's (AUY) and Agnico-Eagle Mines' (AEM) reserves are comparatively small at less than 20 million ounces each.
Investors can gain access to the gold industry through gold-backed ETFs like the Standard & Poor's Depositary Receipt ETF (SPDR), the SPDR Gold Shares ETF (GLD), and the VanEck Vectors Gold Miners Index ETF (GDX). These ETFs invest in the stocks mentioned above. ABX, NEM, and GG make up 19.3% of GDX's holdings.
A brief history of Kinross Gold
Kinross was founded in 1993 by the amalgamation of CMP Resources Ltd., Plexus Resources, and Ontario Corporation. It was listed on the Toronto Stock Exchange and NASDAQ on June 1, 1993.
In this series, we'll analyze the various business aspects of Kinross Gold. We'll also look at various key drivers that impact Kinross's investors. Let's begin by looking at the regions that Kinross operates in and the implications that these regions have on the company's earnings.