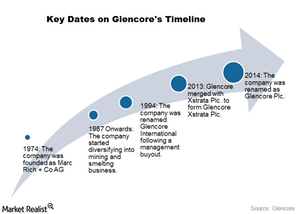 Must Know: How Did Glencore Take Shape?
Glencore
Glencore (GLNCY) is a relatively new entrant in the metals and mining industry. The company was founded in 1974. In contrast, companies such as Rio Tinto (RIO), and BHP Billiton (BHP) have been around for over 130 years. Mining peer Vale (VALE) was founded over 70 years ago. Currently, Vale forms 2.9% of the iShares MSCI Brazil Capped ETF (EWZ).
Article continues below advertisement
Timeline
When initially incorporated as Marc Rich and Company in 1974, the company was engaged in marketing ferrous and non-ferrous metals, minerals, and crude oil. In 1981, the company acquired a Dutch grain trading company that now forms Glencore's agricultural products business.
Until 1987, the company was into trading only. However, since then, it diversified into mining, smelting, and refining through several acquisitions. It purchased a 27% stake in the Mt. Holly aluminum smelter. Please note that currently the full ownership of the Mt. Holly smelter is held by Century Aluminum (CENX). Century Aluminum was formed by Glencore in 1995.
The company has invested in several mining assets since 1987. In the coming parts of this series, we'll explore Glencore's current mining portfolio.
Glencore is born
The company was renamed Glencore International in 1994 after a management buyout. It listed on the London Stock Exchange and Hong Kong Stock Exchange in 2011. In 2013, Glencore merged with Xstrata, and the merged entity was renamed Glencore Xstrata. However, in the next year, Glencore Xstrata was renamed Glencore.
So, how does the present-day entity look like? What businesses is the company engaged in? We'll answer these questions in the next part of this series.