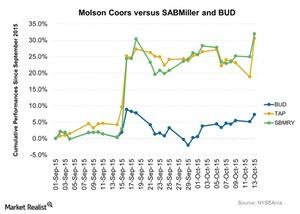 Molson Coors Benefits from the SABMiller–Anheuser-Busch Deal
By Renee Blakely

Updated
SPY's top stock
Molson Coors Brewing Company (TAP) made it to the top spot of the SPDR S&P 500 ETF (SPY) on Tuesday, October 13, 2015. The stock gained 9.9% on the day after SABMiller (SBMRY) agreed to be acquired by rival company Anheuser-Busch (BUD) for $67.50 per share. The acquisition is one of the biggest of its kind, with the deal worth $104 billion.
As part of the acquisition regulatory process, SABMiller will divest some of its assets, including its MillerCoors joint venture with Molson Coors. Molson Coors owns 42% of this joint venture, while SABMiller owns the other 58%. If this joint venture is divested, Molson Coors has the right of first refusal to acquire the remaining 58% stake, giving it an upside in this probable event.
Stocks of Molson Coors have thus climbed 9.9% against Anheuser-Busch's 2.1% and SABMiller's 5.6%. The graph above shows the performances of these stocks since September 2015. In the graph, we can see the steep rise of Molson Coors after the Anheuser-Busch–SABMiller deal.
The other two stocks that made to the top three of the SPDR S&P 500 ETF on October 13, 2015, were Aetna (AET) and Anthem (ANTM). These biotechnology stocks rose by 2.4% and 1.9%, respectively.
Article continues below advertisement
Stocks at the bottom
Stocks that landed at the bottom of the ETF on October 13 were Ryder System (R), Denbury Resources (DNR), and Martin Marietta Materials (MLM). These stocks yielded -9.3%, -4.9%, and -4.3%, respectively, on the day.
Ryder System lowered its earnings per share (or EPS) forecast for the third quarter. The company's revised EPS is in the range of $1.72–$1.74 per share against a forecast of $1.82–$1.87 per share. It has revised its earnings guidance due to lower-than-expected earnings growth in its Fleet Management Solutions business segment.
Johnson & Johnson (JNJ) fell by 0.56% when the company missed its revenue forecast despite beating the estimates for the quarterly earnings per share. The company's quarter is said to be impacted by negative currency effects.
Intel (INTC) fell by 0.53% on October 13, 2015, following its earnings release. Citing weak demand for personal computers, the company saw its earnings fall 6.3% in the third quarter.
Now let's have a look at the UK stock market and its take on the Chinese trade data.