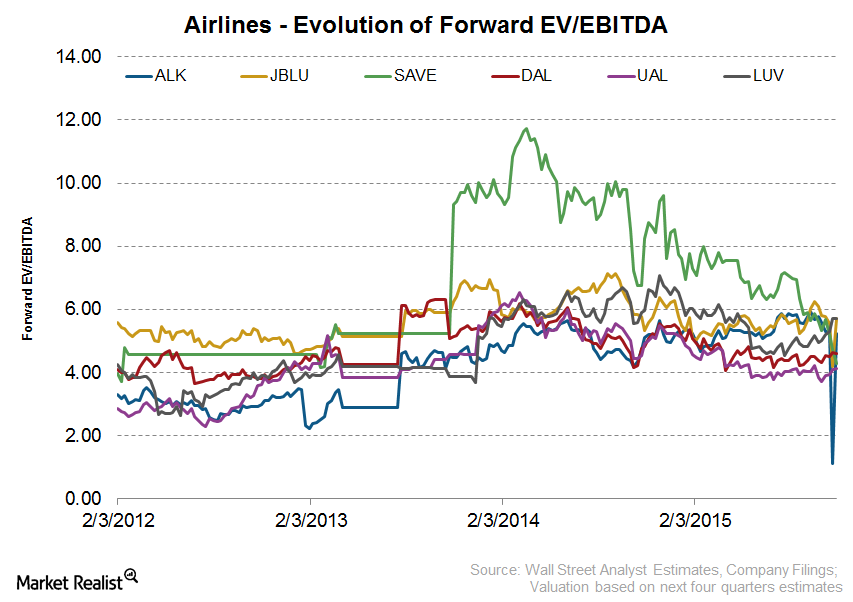 Could JBLU's Valuation Change after 3Q15?
By Ally Schmidt

Nov. 17 2015, Updated 4:04 p.m. ET
Current valuation
Following its 3Q15 earnings, JetBlue's (JBLU) stock declined almost 2.5%. JBLU is currently valued at 5.7x its forward EV/EBITDA (enterprise value to earnings before interest, tax, depreciation, and amortization) multiple. This is slightly higher than its 2015 average of 5.5x.
Article continues below advertisement
Why EV/EBITDA?
Airlines are capital-intensive. They have high levels of depreciation and amortization and varying degrees of debt and operating leases. To neutralize both of these factors, we use the EV/EBITDA ratio to value airline stocks. The forward EV/EBITDA ratio shows what investors are willing to pay for the next four quarters of estimated EBITDA.
Peer comparison
Southwest (LUV) is trading similarly to JetBlue at 5.7x. Alaska Air Group (ALK) is trading at 5.2x, Spirit Airlines (SAVE) at 4.29x, Delta Air Lines (DAL) at 4.6x, American (AAL) at 4.7x, and United (UAL) at 4x.
In the past too, JetBlue has enjoyed a higher forward EV/EBITDA multiple among peers. Industry-leading capacity growth, rising unit revenue, and capacity utilization when other players reported declining PRASM and load factors were a few reasons for JBLU's high valuation. JetBlue's falling leverage has also helped.
Article continues below advertisement
Our analysis
Falling crude oil prices since the start of 2014 are one of the major reasons for improved profitability across all airlines. Capacity growth, aided by increasing air travel demand, also boosted growth. However, capacity growth has been exceeding industry demand, and investors have started fearing overcapacity in the industry.
As oil prices are expected to recover toward the end of 2016, airline profits should also normalize to pre-2014 levels. Also, American Airlines' recent announcement that it will lower fares may cause price wars in an attempt to capture market share. This should result in falling profitability for all airlines, especially low-cost carriers, as American tries to capture their market share. The impact for JBLU might be limited, though, as its routes overlap with American—mostly at JFK.
JetBlue's high-value geography, maturing markets, and premium product have helped it grow in the past. It operates at airports with controlled gates and slots, limiting competition. JBLU's low-cost structure and strong domestic presence position it well to outperform peers. These measures, along with its innovative services like Mint, should help it grow in the future.
However, given the risk, there seems to be more downside potential than upside. JBLU forms ~1% of the iShares S&P Mid-Cap 400 Growth ETF (IJK).
You can read our complete overview of JetBlue.