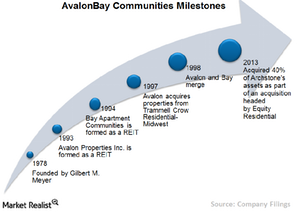 Investing in AvalonBay Communities: A Must-Know Company Overview
By Peter Barnes

Updated
Brief history
Headquartered in Arlington, Virginia, AvalonBay Communities (AVB) was founded by Gilbert M. Meyer in 1978. Avalon Properties, Inc. was incorporated in the state of Maryland as a REIT in 1993 and in the same year, the company raised $400 million in a public offering. AvalonBay Communities was the result of a merger between Avalon Properties, Inc. and Bay Apartment Communities in 1998. The latter was formed as a REIT in 1994, assuming the assets of San Jose-based Greenbrier Development Company, which was also founded in 1978. AvalonBay Communities is a part of an S&P 500 index.
Article continues below advertisement
Business interest
AvalonBay Communities is a leading REIT focused on developing, redeveloping, acquiring, and managing high-quality apartment communities in high barrier-to-entry markets of the United States. The company's portfolio of assets is comprised of 283 apartment communities consisting of 82,974 rental apartment units.
Competitors
AvalonBay Communities is the second-largest apartment REIT company in the US after Equity Residential (EQR) with a market capitalization of $22.8 billion. The company competes with a number of other apartment REITs in the US for rental properties. In addition, competition also comes from other forms of rental properties and single-family housing that provide housing alternatives to potential residents of multifamily properties. On the other hand, apartment REITs also compete on residents' decision of owning a home or renting an apartment. When home prices are high, renting becomes more attractive and vice versa.
Article continues below advertisement
Apart from Equity Residential (EQR), major competitors of AvalonBay Communities in the apartment REIT space include California-based Essex Property Trust (ESS), Colorado-based UDR (UDR), Texas-based Camden Property Trust (CPT), Colorado-based Apartment Investment & Management Company (AIV), and Tennessee-based Mid-America Apartment Communities (MAA). The iShares Residential Real Estate Capped ETF (REZ) invests 8.25% of its portfolio in AvalonBay Communities.