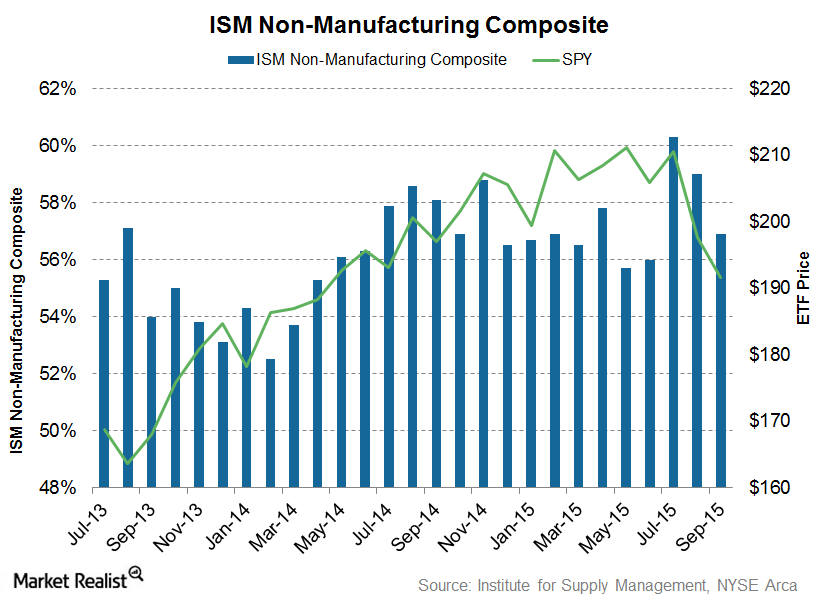 Expanding Service Sector Gives Relief to Economy in September
ISM Non-Manufacturing Index came in at 56.9 in September 2015
The ISM (Institute for Supply Management) Non-Manufacturing Index fell by 2.1 points in September to 56.9. Although a reading above 50 indicates expansion, the level is far below the consensus estimate of 58.0. Over the past year, the ISM Non-Manufacturing index has dropped 2.1%, whereas the SPDR S&P 500 ETF (SPY) has fallen 2.7% over the same period as of September 30.
Article continues below advertisement
Article continues below advertisement
Declining prices may ease inflation further
Although the business activity index is at 60.2 and new orders stood at 56.7 in September, they are growing at a slower rate. Also, the economic slowdown, falling crude prices, and minimal pricing power with suppliers have resulted in a decline of 2.4% in the prices index to 48.4 in September. This may signal a further easing of inflation in the economy.
Jobs in the non-manufacturing sector account for about 80% of all employment in the economy. A 2.3% rise in the employment index to 58.3 in September may be an early indicator of improving labor market conditions.
Import and export orders grow
Along with employment, imports and new export orders have also seen faster growth in September. A strong dollar is encouraging imports, which increased by 1.5% to 53.0 in September. Also, new export orders recorded a gain of 0.5% to 52.5 in September 2015. The industries reporting an increase in new export orders in September were utilities, information, accommodation and food services, construction, and wholesale trade.
Article continues below advertisement
Thirteen non-manufacturing industries reported growth in September, including education, healthcare, real estate, construction, financial services, and utilities, whereas mining, retail, and entertainment reported contraction in September. Over the past year, healthcare stocks such as Pfizer (PFE) and Bristol-Myers Squibb (BMY) have risen 14.8% and 21.3%, respectively, as of October 5, while mining stocks such as Alcoa (AA) and Newmont Mining (NEM) have fallen by 34.9% and 22.5%, respectively, over the same period.
The ISM Non-Manufacturing Index provides insight on the service sector, which makes up more than 85% of the US economy. Although the service sector is not cyclical like the manufacturing sector, a detail look into new orders, employment, imports, and prices helps gauge economic conditions.
With manufacturing slowing, a reading of the Non-Manufacturing Index at an above-neutral level may provide some relief to the US economy, which is highly dependent on the service sector for its economic growth. The US Markit Services PMI is also out. We'll take a look at it in the next article in this series.