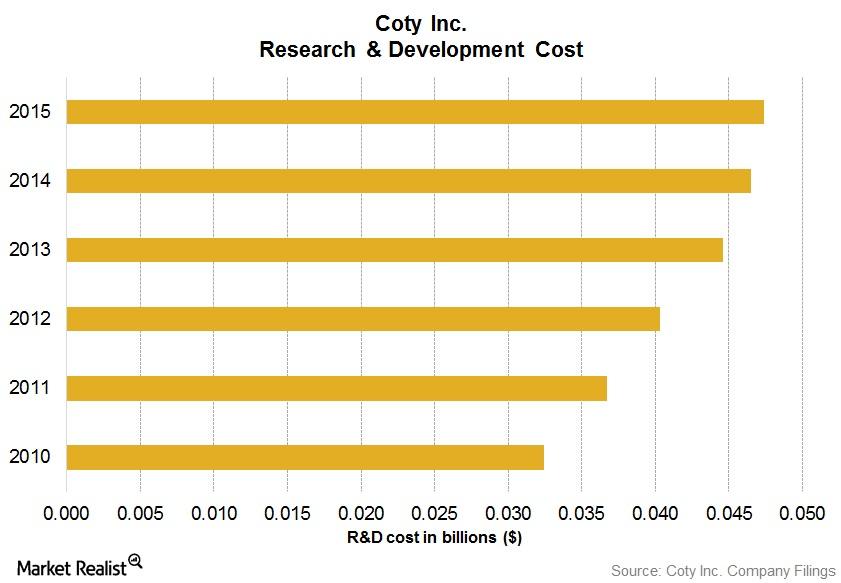 Coty's Heritage of Research and Innovation
By Penny Morgan

Oct. 28 2015, Updated 9:06 a.m. ET
R&D expenditure and innovation centers
Coty, Inc.'s (COTY) research and development (or R&D) team is a significant pillar of the company's innovation initiatives. At the end of fiscal 2015,[1. Year ended June 30, 2015] the company had 230 employees engaged in R&D. Coty's R&D expenditure totaled ~$0.05 billion, or 1.1% of its net revenue, in fiscal 2015.
The company's R&D team works closely with its marketing and operations team in order to identify recent trends and consumer needs to quickly bring its products to the market. The company maintains five R&D centers, which are located in the US, Europe, and China.
Article continues below advertisement
Successful innovations
Coty's product launches include Rimmel Wonder'Lash mascara with argan oil, a volumizing and conditioning mascara, and Sally Hansen Miracle Gel 2.0, the two-step gel manicure with a plumping top coat that does not require light, have helped in company's color cosmetics growth, especially in the Asia–Pacific region.
New collections from fragrance brands, the rollout of philosophy ultimate miracle worker, and Lancaster 365 Skin Repair Serum, have helped to strengthen the company's net sales.
R&D philosophy
Coty combines research and technology, new ingredients, and precise market testing to develop new products and improve existing ones.
Coty's competitors Estée Lauder (EL), Procter & Gamble (PG), and Unilever (UL) focus on creating products that cater to consumers in specific markets and regions, based on their cultural preferences, skin tones, and beauty habits.
Affiliations and awards
Coty is affiliated with various universities, technical centers, supply partners, industry associations, and technical associations to conduct R&D in order to identify consumer preferences. The company's awards include Best Packaging of the Year in fiscal 2015 for Marc Jacobs Daisy Dream.
Coty has exposure in the First Trust US IPO Index ETF (FXP), with ~1.0%[2. Updated as of October 5, 2015] of the total weight of the portfolio.