Coca-Cola's 3Q15 Earnings Beat Estimates, Decline from Prior Year
Coca-Cola's 3Q15 earnings were negatively impacted by currency headwinds and a 4.6% decline in 3Q15 revenue.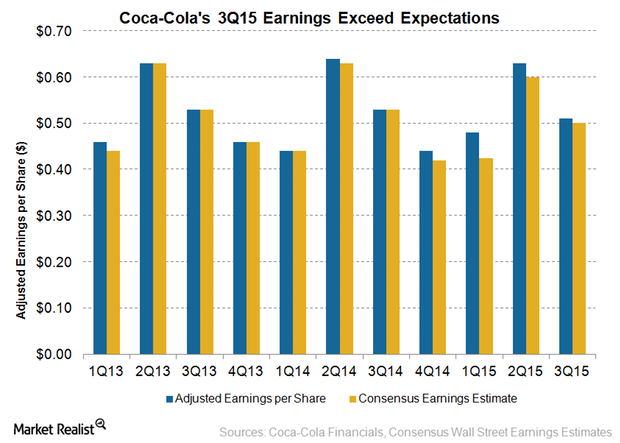 Coca-Cola's 3Q15 earnings
Coca-Cola's (KO) 3Q15 earnings continued to be impacted by adverse currency fluctuations. Coca-Cola reported an adjusted EPS (earnings per share) of $0.51 in 3Q15, ahead of Wall Street analysts' estimate of $0.50. The company released its earnings for 3Q15 ended October 2, 2015, on October 21. Coca-Cola's stock price fell by 0.2% to $42.19 on the day the results were announced.
Article continues below advertisement
Article continues below advertisement
3Q15 earnings decline
Coca-Cola's 3Q15 adjusted EPS, which excludes the impact of one-time items, fell by 3.8% from the same quarter of the previous year. Currency headwinds had an impact of 12 percentage points on the company's EPS. Coca-Cola's earnings were also negatively impacted by a 4.6% decline in 3Q15 revenue. Coca-Cola had exceeded analyst expectations in the first two quarters of fiscal 2015. Coca-Cola makes up 4.9% of the portfolio holdings of the iShares S&P Global Consumer Staple ETF (KXI).
PepsiCo (PEP) reported adjusted EPS of $1.35 in 3Q15, exceeding analysts' earnings estimate of $1.26. Dr Pepper Snapple Group's (DPS) 3Q15 adjusted EPS came in at $1.08, ahead of analysts' estimate of $1.03. Monster Beverage's (MNST) earnings, which will be announced in November, are also expected to be impacted by currency headwinds. Monster Beverage missed analyst expectations in 2Q15.
Article continues below advertisement
Charges related to refranchising
Coca-Cola's net income, including the impact of one-time items, fell by 31.2% to $1.5 billion. Net income was impacted by charges of $815 million related to the refranchising of territories in the company's North American bottling operations.
Coca-Cola continues to refranchise its bottling operations in the North America region. On September 24, the company announced its plans to divest nine production facilities to three of its independent bottlers.
In its latest move towards refranchising, the company announced on October 21 that it has signed letters of intent with three US bottlers to grant expanded distribution territories in seven states. The three bottlers involved are Coca-Cola Beverages Florida, Great Lakes Coca-Cola Distribution, and Atlantic Coca-Cola Bottling Company. Including these latest letters of intent, territories transitioned to-date or included in agreements represent over 30% of total US bottle-delivered volume.
In April and May 2015, he company also announced definitive agreements with Coca-Cola Bottling Company United, Swire Coca-Cola, USA, Coca-Cola Bottling Company High Country, Ozarks Coca-Cola Bottling Company, and Coca-Cola Bottling Company Consolidated.
In the next part of this series, we'll discuss Coca-Cola's revenue performance in 3Q15.