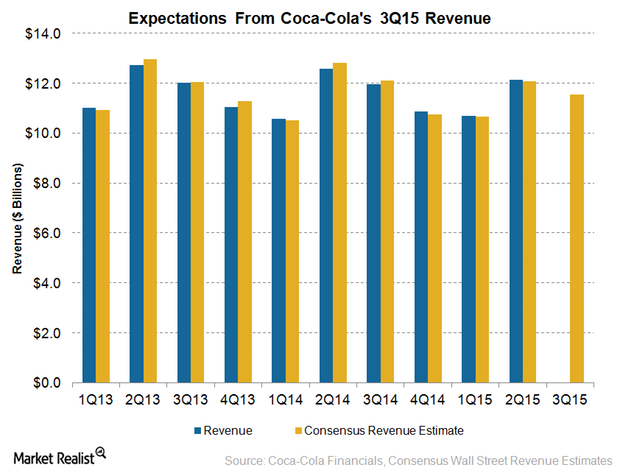 Can Coca-Cola's 3Q15 Revenue Grow amid Currency Fluctuations?
By Sirisha Bhogaraju

Nov. 20 2020, Updated 5:03 p.m. ET
Analyst revenue expectations
Coca-Cola (KO) is expected to announce its results for the third quarter of fiscal 2015 on October 21. The consensus Wall Street analyst expectation for Coca-Cola's 3Q15 revenue is $11.6 billion. This consensus estimate reflects a 3.4% decline in 3Q15 revenue from the comparable quarter of the previous year.
Article continues below advertisement
Impact of currency headwinds
Coca-Cola's revenue in 2Q15 was $12.2 billion, ahead of the consensus Wall Street revenue estimate of $12.1 billion. The company's 2Q15 revenue declined by 3.3% on a year-over-year basis. Coca-Cola's revenue declined in all four quarters of 2013 and 2014. The company's revenue increased by 1.3% in 1Q15 but declined again in the second quarter. Currency headwinds dragged down Coca-Cola's 2Q15 revenue by seven percentage points.
The impact of the strengthening US dollar is expected to continue, as Coca-Cola has huge exposure to international operations. In fiscal 2014, international operations accounted for 57% of the company's net revenue. Coca-Cola expects currency headwinds to have a seven percentage point impact on its 3Q15 net revenue. Coca-Cola constitutes 1.5% of the portfolio holdings in the SPDR S&P Dividend ETF (SDY) and 2.2% of the iShares Russell Top 200 Growth ETF (IWY).
Article continues below advertisement
Other nonalcoholic beverage companies are also affected by the strengthening of the US dollar against major currencies. The 2Q15 sales of Dr Pepper Snapple (DPS) were adversely affected by 2 percentage points of currency headwinds. Foreign currency fluctuations had a 3.5% unfavorable impact on Monster Beverage's (MNST) net sales in 2Q15.
PepsiCo (PEP), which reported its 3Q15 results on October 6, reported a 15 percentage point negative impact of currency fluctuations on its 3Q15 net revenue.
Organic revenue growth
Excluding the impact of currency headwinds, Coca-Cola's organic revenue increased by 4% in 2Q15, driven by a 2% increase in overall unit case volume. The company experienced organic revenue growth across all its segments in 2Q15. The overall company and each of the segments reported higher volume growth in still beverages compared to soda beverages. We'll discuss the dominance of still beverages in the next part of this series.