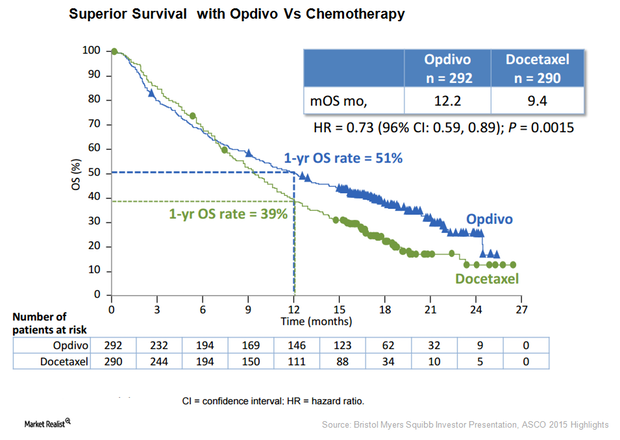 Bristol-Myer Squibb's Opdivo Is Keytruda's Strong Competitor
Opdivo
On September 2, 2015, the U.S. Food and Drug Administration (or FDA) accepted the filing of a supplemental Biologics License Application (or sBLA) for Bristol-Myers Squibb's (BMY) Opdivo.
According to the FDA, "A biologics license application is a submission that contains specific information on the manufacturing processes, chemistry, pharmacology, clinical pharmacology and the medical affects of the biologic product. If the information provided meets FDA requirements, the application is approved and a license is issued allowing the firm to market the product."
Article continues below advertisement
Though Opdivo was approved in March 2015 for advanced squamous non-small cell lung cancer (or NSCLC) that has progressed during or after being treated with platinum-based chemotherapy, Bristol-Myers Squibb's sBLA is targeted at expanding Opdivo's label to include previously treated patients with non-squamous (or NSQ) NSCLC. If approved, this indication will strengthen Opdivo's position in the NSCLC market.
In its Phase 3 clinical trials known as CHECKMATE-057, Opdivo (nivolumab), proved more effective than existing chemotherapy options in increasing survival rate in NSQ NSCC patients.
Competition with Keytruda
Similar to Opdivo, Merck's (MRK) Keytruda is another PD-1 inhibitor drug currently approved for treating NSCLC and melanoma, a type of skin cancer. Other companies such as Sanofi (SNY) and Regeneron (REGN) are also actively involved in developing the PD-1 inhibitor drug REGN2810. Both Keytruda and Opdivo are being further studied as monotherapies for other types of cancer.
You can get exposure to Bristol-Myers Squibb's new PD-1 inhibitor drug Opdivo, yet avoid taking excessive company-specific risks, by investing in the Health Care Select Sector SPDR ETF (XLV). Bristol-Myers Squibb accounts for 0.15% of the ETF's total holdings.