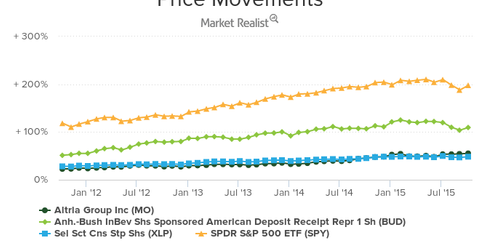 The Biggest Risks Facing an Anheuser-Busch InBev–SABMiller Deal
By Phalguni Soni

Updated
Major risks: Assent by SABMiller and BevCo boards
According to Carlos Brito, the CEO of Anheuser-Busch InBev (BUD) (AHBIF) (ABI.BR), the chief risk in the SABMiller (SBMRY) (SAB.L) transaction lies in the latter's board's refusal to engage with ABI on the transaction. ABI's decision to come up with a public bid has much to do with SABMiller's refusal to engage with ABI.
SABMiller's board has refused the three bids made by ABI. According to the SABMiller board's statement following ABI's third offer of 42.15 pounds per share, "The Board, excluding the directors nominated by Altria Group Inc. (MO), has unanimously rejected the GBP 42.15 Proposal as it still very substantially undervalues SABMiller, its unique and unmatched footprint, and its standalone prospects."
[marketrealist-chart id=710816]
Article continues below advertisement
Which way will BevCo blow?
Another major risk lies in obtaining the assent of SABMiller's second-largest shareholder BevCo, which is an investment vehicle for the Santo Domingo family. BevCo owns about 13.9% of SABMiller. SABMiller's board also includes nominees from the Santo Domingo Group, who haven't supported any of ABI's bids to date.
ABI has also confirmed it doesn't yet have BevCo's nod for the transaction yet. According to ABI's CEO, Carlos Brito, the partial share alternative (as discussed in Part 2) was designed with BevCo in mind. Without its consent, the transaction wouldn't go through.
Looking deadline
ABI also must keep an eye out for October 14. According to the UK takeover code, the company has until October 14 to make a firm offer for SABMiller. After this date, ABI needs to refrain from making a bid for at least six months. ABI's third offer of 42.15 pounds isn't categorized as a firm offer. According to Brito, SABMiller's board can extend the deadline under certain conditions.
Although ABI indicated that it would favor a "recommended transaction," or one that has the backing of the SABMiller board, Brito urged SABMiller's shareholders to voice their opinions about the proposal to SABMiller's board.
Anheuser-Busch InBev makes up 1.2% of the portfolio holdings in the PowerShares International Dividend Achievers ETF (PID) and 0.6% of the holdings in the First Trust Value Line Dividend Index ETF (FVD).