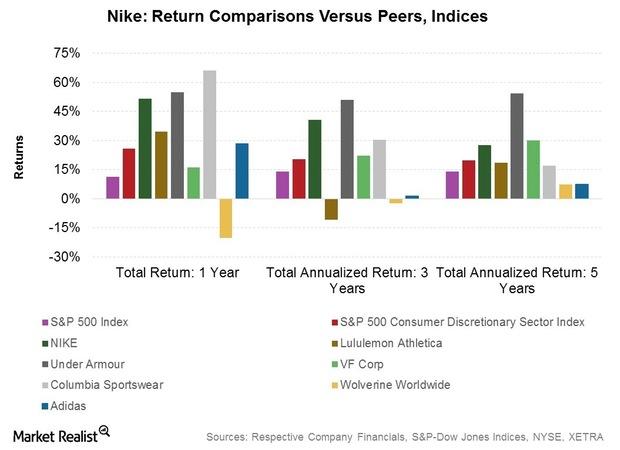 Analysis: Nike's 5-Year Roadmap to Grow Sales
Key market takeaways from Nike's 2015 Investor Day
Nike (NKE), the world's largest sports gear company, held its biennial Investor Day on October 14, 2015. At the meeting, the company projected an upbeat financial picture with growth in revenue expected to accelerate over the next five years. The company is also targeting total returns to shareholders in the top quartile of the S&P 500 Index (SPY) (IVV) (VOO).
Nike's turnover is expected to grow to $50 billion by fiscal 2020, rising by ~63% compared to the $30.6 billion clocked in fiscal 2015. The fiscal year for Nike ends May 31. This implies sales growth at a CAGR[1. Compounded annual growth rate] of 10.3% over the period fiscal 2015–fiscal 2020. Nike's sales have grown at a CAGR of ~10% over the past five years.
Article continues below advertisement
Market leadership
Nike is the largest athletic gear company in the world. The company holds the top position in both athletic footwear, its traditional stronghold, and athletic apparel, worldwide. The company clocked global apparel and footwear sales of $8.6 billion and $18.3 billion, respectively, in fiscal 2015.
In comparison, the company's competitors Adidas (ADDYY) (ADS.DE), VF Corporation (VFC), Under Armour (UA), Skechers (SKX) and Puma (PMMAF) reported total revenue of $19.3 billion, $12.3 billion, $3.1 billion, $2.4 billion, and $3.9 billion, respectively, in their last fiscal years.
To learn more about Nike, read our business overview series, Traditionally innovative: A must-know investor's guide to NIKE
Growth drivers
Nike expects to drive growth in its top line from all segments and product categories. Chiefly, it's looking at basketball and running brands Jordan and Converse, the women's and youth demographic, and direct-to-consumer and e-commerce channels, to have a leading role in boosting its top line. Most importantly, Nike expects to maintain its global leadership position via its robust innovation tradition and product pipeline. Nike unveiled several product partnerships at its Investor Day. Read about these game-changing moves in the eighth part of this series.