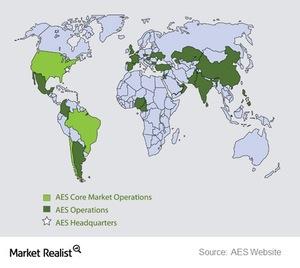 How Does AES Manage Its Businesses across 18 Countries?
By Pearl Adams

Oct. 15 2015, Updated 4:25 p.m. ET
AES Corporation's structure
As discussed in the first part of this series, AES Corporation (AES) has two lines of business, generation and utilities (XLU), and operates its global business through its six SBUs (strategic business units). AES has businesses spread across 18 countries and has various operating subsidiaries, each focusing on a specific area of business.
Article continues below advertisement
Utility companies
AES Corporation is the UHC (ultimate holding company) of the following utility companies:
Indianapolis Power & Light Company
DPL
AES Eletropaulo
Premier Power
Indianapolis Power & Light Company provides electricity to the city of Indianapolis and is AES's largest power utility company.
DPL, through its subsidiary The Dayton Power and Light Company, sells electricity in western and central Ohio. Other utilities operating in these regions are Duke Energy (DUK) and American Electric Power (AEP).
AES sells power in other countries in addition to the United States. AES Eletropaulo is a major Brazilian power company located in the state of São Paulo. The company distributes and sells power in over 20 municipalities, covering an area of more than 4,000 square kilometers.
Premier Power is a European utility that supplies electricity in Northern Ireland.
AES Gener
Headquartered in Santiago, Chile, AES Gener is engaged in power generation and distribution. The company is the second largest power generator in Chile, with an installed capacity of approximately 3440 MW (megawatts) and a market share of about 18%.
Article continues below advertisement
AES Wind Generation
AES Wind Generation is an alternative energy company that operates wind farms and harnesses power from sea winds. It has facilities across the United States and Europe. Other services provided by the company include consulting, maintenance, and asset management. The company operates over 30 plants and has a generation capacity of more than 1,200 MW.
AES Energy Storage
AES Energy Storage, as the name suggests, provides energy storage services through advanced battery technology. The company, based in Arlington, Virginia, started operations in 2008. Its flagship product is Advancion, a fourth generation grid storage solution for utilities.
Apart from these subsidiaries, through its recent acquisition of Main Street Power, AES formed AES Distributed Energy, which has a diverse portfolio of distributed solar (TAN) generation facilities.