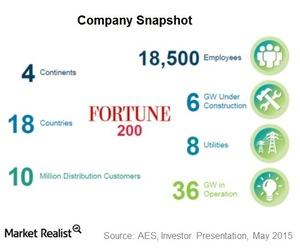 AES Corporation: Its Evolution Up until Now
By Pearl Adams

Updated
About AES Corporation
AES Corporation (AES) is a leading global power company based in the United States. AES is a Fortune 200 company and is headquartered in Arlington, Virginia. It generates and distributes electricity through various operating subsidiaries in 18 countries across four continents.
Article continues below advertisement
AES Corporation's history
AES Corporation was founded on January 28, 1981, as Applied Energy Services. It was initially a consulting company. In 1991, when it became a power generating company and went public on the NASDAQ, its name was changed to AES Corporation. The company was subsequently listed on the NYSE (New York Stock Exchange) in 1996. During the mid to late 1990s, AES went global by expanding to Europe, the Middle East, Africa, China, and Latin America. The economic slowdown, worsened by the terrorist attacks of September 11, 2001, affected the financial stability of the company. To fight this slowdown, AES underwent a major restructuring in 2002, after which it sold its non-performing subsidiaries.
Business overview
AES Corporation is a global entity and operates through its six SBUs (strategic business units). These business units were created based on the geographical areas they cater to. These areas are the United States, the Andes, Brazil, MCAC (Mexico, Central America, and the Caribbean), Europe, and Asia. AES has two lines of business—generation and utilities. The generation business owns and operates power plants, which generate and sell power wholesale to utilities and industrial users. The utilities business owns or operates utilities to generate or purchase power and distribute, transmit, and sell power to residential, commercial, and industrial users in designated service areas.
AES Corporation forms 1.5% of the Utilities Select Sector SPDR ETF (XLU). The top five components of this ETF are Duke Energy (DUK) with 8.7%, NextEra Energy (NEE) with 8.5%, Dominion Resources (D) with 8.0%, Southern Company (SO) with 7.7%, and American Electric Power (AEP) with 5.3%.