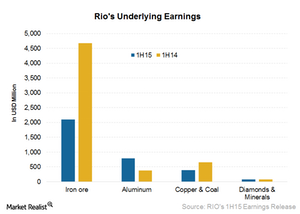 Will the Slide in Rio Tinto's Underlying Earnings Continue?
Operating income
Rio Tinto's (RIO) underlying EBITDA (earnings before interest, taxes, depreciation, and amortization) was $7.3 billion for 1H15. This is a fall of 30% year-over-year (or YOY). Its underlying earnings also fell 43% YoY to $2.9 billion in 1H15. In this article, we'll see the reasons for the declining EBITDA and underlying earnings.
Article continues below advertisement
Prices led earnings fall
Lower realized prices were the main culprit behind Rio's fall in underlying earnings. Lower prices reduced earnings by $3.6 billion. They also offset the impact of cost reductions that Rio achieved during the year.
The bulk of the drop in underlying earnings was due to a fall in average realized iron ore prices. They fell 45% YoY in 1H15. Of a total fall of $3.6 billion due to lower prices, $3.2 billion, or 89%, was due to lower iron ore prices.
Weaker realized prices for copper and coal reduced underlying earnings by $241 million and $160 million, respectively.
Offset in earnings fall
On the other hand, exchange rate, energy, inflation, and volumes led to an increase in the company's underlying earnings by $847 million, $74 million, and $79 million, respectively.
Cash cost reductions also helped the underlying earnings to an extent of $319 million during the first half of 2015.
Rio's management expects the benefit from higher volumes to continue in the second half of the year as it ramps up its completed infrastructure project in Pilbara for iron ore and increased output from its expanded Kitimat smelter for aluminum.
On being asked about only a $74 million uplift from energy and inflation despite significantly lower crude oil prices, the management team commented that the key issue is inventory. The company is affected by price falls with a lag. Also, a lot of its energy needs are self-generated. But the management team expects more benefits from a fall in energy prices going forward.
The fall in operating income is not limited to just RIO. Other miners, including BHP Billiton (BHP)(BBL), Vale SA (VALE), Cliffs Natural Resources (CLF), and Freeport-McMoRan (FCX) also reported falls in their respective incomes for 2Q15. Iron ore, coal, aluminum, and copper prices are going through a rough phase, affected by oversupply amid slowing growth concerns in China and elsewhere. The SPDR S&P Metals and Mining ETF (XME) invests in the diversified metals and mining space. FCX forms 3% of XME's holdings.
In the next article of this series, we'll look at the volumes for iron ore. Iron ore contributes the majority of RIO's earnings. It contributed 56% to RIO's 1H15 EBITDA and 72% to its underlying earnings.