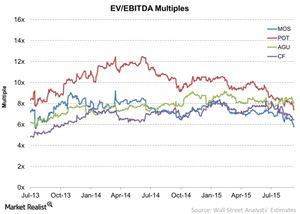 How Valuation Multiples Have Changed for Fertilizer Companies
Valuation multiple
To compare fertilizer companies such as Mosaic (MOS), Potash (POT), Agrium (AGU), and CF Industries (CF), we'll use an enterprise multiple such as EV-EBITDA (enterprise value to earnings before interest, taxes, depreciation, and amortization).
EV-EBITDA takes into account the effect of debt and cash of a company under evaluation. This makes a comparison among companies' capital structure neutral, since the fertilizer business is capital-intensive and a high debt level isn't uncommon. This multiple also eliminates the various methods used to account for depreciation by different companies.
Article continues below advertisement
Valuation multiples drop
Mosaic (MOS), which has historically traded at a high valuation multiple of 9.2x, is currently trading at an enterprise value to next 12-month EBITDA ratio of 5.7x. This is an historical low point, as you can see in the above graph. Similarly, Potash's (POT) valuation multiple is also trading at an historical low point at 7.38x. The company traded at a high point of 12.4x.
Valuation multiples of Agrium (AGU) and CF Industries (CF) haven't dropped as much as Mosaic's and Potash's. Agrium is currently trading at a multiple of 8x, which is close to the company's historical midpoint of 8.5x. CF Industries is trading at 6.42, above its historical midpoint of 5.9x. CF Industries is primarily into nitrogen fertilizer, which requires more frequent application compared to potash- and phosphates-based fertilizers. The VanEck Vectors Agribusiness ETF (MOO) holds 3.7% of Mosaic as a percentage of its total portfolio.
Mosaic's and Potash's valuation multiples fell as a result of a downward revision of next 12-month EBITDA by Wall Street analysts. This was sparked by lowered guidance on industry fundamentals, as we saw in the previous parts of this series.
To get more updates on fertilizer companies, you can visit our Agricultural Fertilizers page.