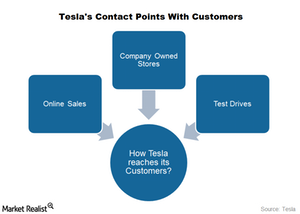 Understanding Tesla Motors' Marketing Strategy
Tesla Motors' marketing strategy
Previously, we explored Tesla Motors' (TSLA) Superchargers. Along with Superchargers, which are strategically located along major highways, Tesla offers "Destination Charging." It partners with frequently visited places such as restaurants, resorts, and shopping malls to let Tesla owners charge their Model-S cars at their properties. This should likely give Tesla another competitive advantage over the long term.
Now, we'll discuss Tesla's marketing strategy.
Article continues below advertisement
Article continues below advertisement
How Tesla sells its cars
Tesla's distribution strategy is much different from that of other automobile manufacturers including Ford (F), Fiat Chrysler (FCAU), and General Motors (GM). Unlike legacy automakers, Tesla does not have a dealer network.
According to Tesla CEO Elon Musk, "Existing franchise dealers have a fundamental conflict of interest between selling gasoline cars, which constitute the vast majority of their business, and selling the new technology of electric cars."
In light of this difference, Tesla is pursuing a differentiated selling strategy for its cars. It lets buyers book a car online, without having to visit any of the dealers. Not having dealers is actually a double-edged sword, as we'll explore in the coming parts of the series.
Tesla also offers a test drive to its potential customers. This also acts as a customer contact point for Tesla.
Company-owned stores
Tesla has 17 stores worldwide (ACWI) to sell its cars. According to Tesla, it opens these stores in places "people regularly visit in a relatively open-minded buying mood." These stores help Tesla interact with potential customers.
In the next part, we'll discuss more on Tesla's distribution strategy.