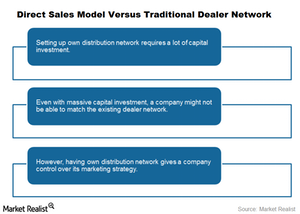 Is Tesla Pursuing the Correct Sales and Distribution Strategy?
Tesla's sales and distribution strategy
As discussed previously, Tesla (TSLA) uses the online sales model coupled with company-owned stores to sell its cars. A totally company-owned distribution model is something totally new and is fraught with several challenges.
The biggest challenge for a company in setting up its own distribution network is capital, or rather the lack of it. It takes a substantial amount of money to set up a distribution channel. For this very reason, vehicle manufacturers including Ford (F) and General Motors (GM) team up with third parties to sell their vehicles.
Ford currently forms 2.47% of the Consumer Discretionary Select Sector SPDR ETF (XLY) and 0.68% of the iShares S&P 500 Value ETF (IVE).
Article continues below advertisement
Article continues below advertisement
Own distribution network
For Tesla, the brick-and-mortar stores serve as a channel to promote the electric vehicle concept as well as its own brand. According to Tesla, the "product specialists" at its stores are not on commission. This means that they differ from the ordinary auto salesman, whose sole aim is to sell the vehicle.
Tesla is indeed a different company with a different strategy. To put it in CEO Elon Musk's words, "Our technology is different, our car is different, and, as a result, our stores are intentionally different."
Moreover, selling more vehicles online reduces the company's selling costs. The physical stores serve only as showrooms for Tesla vehicles. In fact, in several states Tesla is not even allowed to sell vehicles through its stores.
Tesla is facing lawsuits challenging its distribution strategy. We'll discuss these lawsuits in the next part of this series.