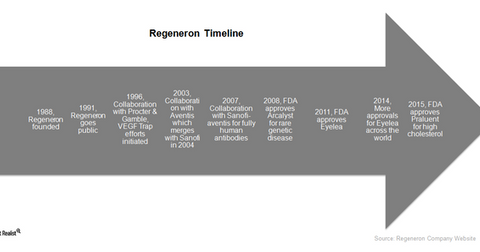 Regeneron: An Investor's Overview to a Leading Biotech Company
By Margaret Patrick

Updated
Overview
With its headquarters in Tarrytown, New York, Regeneron (REGN) is a biotechnology company with products and pipeline candidates focused on conditions such as cancer, eye diseases, allergies, pain, and cardiovascular diseases. In 2015, Forbes ranked Regeneron as the fourth most innovative company in the world.
Article continues below advertisement
Company history
Regeneron was founded in 1988 by Leonard S. Schleifer, a young neurologist with co-founders such as Nobel Prize winners Alfred Gilman and Eric Shooter. Two other Nobel Prize recipients, scientists Joseph Goldstein and Michael Brown, were also present in the company's scientific advisory board. Regeneron derives its name from its initial focus on using gene technology to regenerate neurons, or nerve cells, in the body. In 1989, the company commenced research on neurotrophic factors, proteins promoting nerve growth to treat diseases related to the brain and the central nervous system.
In 1991, Regeneron went public on the NASDAQ exchange. For the next decade, the company witnessed several failures in its neurotrophic factor research programs. The company refocused its strategy to target eye diseases as well as other conditions.
Developments in the 21st century
In 2003, Regeneron entered into a collaboration with Aventis, later known as Sanofi-Aventis. The two companies worked to develop VEGF Trap technology to treat an eye disease in elderly patients called neovascular wet age-related macular degeneration (or wet AMD). In 2006, Regeneron also entered into a collaboration with Bayer HealthCare to develop VEGF Trap technology outside the US.
In 2008, the Food and Drug Administration approved the company's drug Arcalyst for a rare genetic disease. This was followed by FDA approval of Regeneron's blockbuster AMD drug, Eyelea, in 2011. Since then, Eyelea has been approved in the world's major markets, as well as for added indications. In 2013, Sanofi and Regeneron also published positive Phase III results for a cardiovascular drug.
Article continues below advertisement
In 2015, Sanofi and Regeneron launched a collaboration for developing an immune-oncology drug. In July 2015, FDA approved Praluent, an innovative cardiovascular drug that significantly reduces cholesterol. Considered to be a blockbuster therapy, this drug is the first PCKS9 inhibitor drug to be approved. CVS Health has projected that the PCKS9 inhibitor market should be ~$150 billion in the US.
About Regeneron
With a market capitalization of $50.7 billion, Regeneron is one of the major biotechnology companies in the US. Peers such as Amgen (AMGN), Biogen (BIIB), and Gilead Sciences (GILD) have market capitalizations of about $107.5 billion, $63.4 billion, and $142.3 billion, respectively.
Investors can invest in Regeneron, yet avoid unique company risks, by investing in the iShares NASDAQ Biotechnology ETF (IBB). IBB has 7.34% of its total holdings in Regeneron.