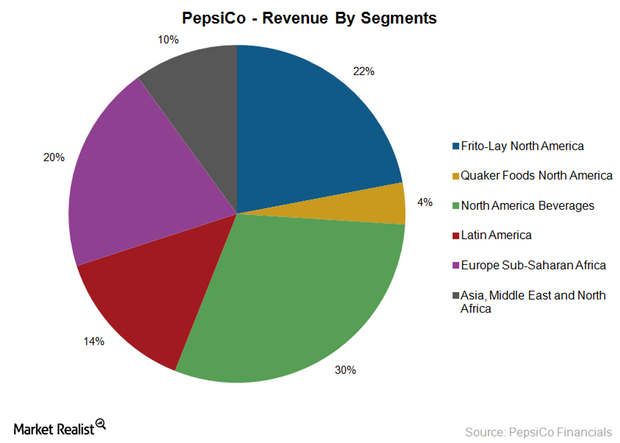 PepsiCo's Strategy for Its UK Business
By Sirisha Bhogaraju

Sep. 21 2015, Published 8:46 a.m. ET
Strategy discussion at Barclays conference
PepsiCo (PEP) participated in the Barclays Global Consumer Staples Conference held on September 9. At the conference, the company's senior management highlighted its strategies for the Europe Sub-Saharan Africa business and the Frito-Lay business.
Article continues below advertisement
Segment realignment
In July 2015, PepsiCo announced the realignment of certain segments effective 3Q15. The company moved its Sub-Saharan Africa business, which was a part of the Asia, Middle East, and Africa division, to the Europe segment, which it renamed the Europe Sub-Saharan Africa, or ESSA, segment. The Asia, Middle East, and Africa segment is now called the Asia, Middle East, and North Africa, or AMENA, segment. PepsiCo also integrated its Latin America food and beverage businesses under a single Latin America segment.
PepsiCo makes up 7% of the portfolio holdings of the Vanguard Consumer Staples ETF (VDC) and 0.7% of the iShares S&P 500 Value Index (IVE).
Europe growth strategy
PepsiCo's ESSA segment accounted for 20% of fiscal 2014 revenue. At the Barclays conference, Ramon Laguarta, CEO (chief executive officer) of PepsiCo's ESSA business, attributed the success of the Europe business to the balance between its snacks and beverages portfolio, as well as the geographical diversification in the region.
PepsiCo's ESSA segment comprises the developed West Europe market, which accounted for 41% of the region's fiscal 2014 revenue. The remaining 59% was contributed by the East Europe and Sub-Saharan Africa region, which mainly includes developing and emerging economies.
The Snacks business is the dominant category in the West region, which has a higher margin than that other PepsiCo regions. The higher margin is a result of the franchise bottling model in the region, which is less asset-intensive in nature.
Rival Coca-Cola (KO) derived 10.5% of its fiscal 2014 net operating revenue from Europe. Dr. Pepper Snapple (DPS) sells its beverages only in the United States and Latin America.
Strategy for the UK
The United Kingdom falls under PepsiCo's West Europe developed region and accounted for 40% of the region's fiscal 2014 revenue. PepsiCo's strategy for its UK business involves continued investment in its core brands across snacks and beverages, including Walkers, Tropicana, Naked, Quaker, and Pepsi.
The company is also ramping up its marketing efforts. In June 2015, PepsiCo announced its three-year sponsorship deal with the Champions League. PepsiCo's UK strategy also involves bringing in innovative products to the market, like Quaker Hearts cereal and Crackers under the Sunbites brand. PepsiCo's partnership in the region with soft drink maker Britvic is also driving the company's soda market share.
In the next part of this series, we will discuss the company's initiatives in Russia.