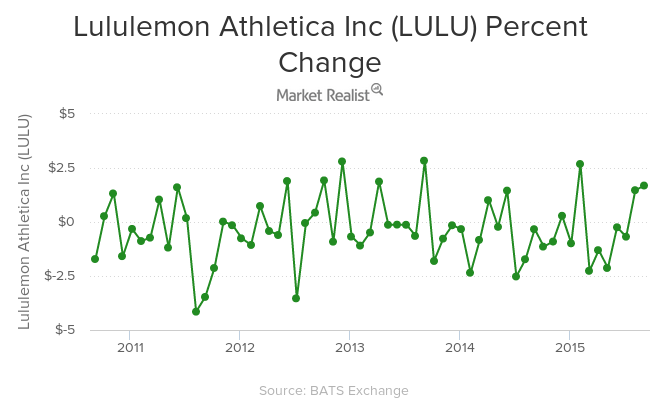 Lululemon: The Outliers Affecting LULU's Stock Price Movement
Chip Wilson may sell his stake in Lululemon Athletica (LULU)
On June 11, Lululemon Athletica (LULU) filed a shelf prospectus with the US Securities and Exchange Commission (or SEC). The filing gives founder Dennis "Chip" Wilson an exit route to sell his ~14.1% stake in the company.
Wilson has been at odds with the company's management in the past. In May last year, Wilson had stepped down from his role as non-executive chairman. At the company's annual general meeting in June 2014, he voiced concerns about how the company was run and its strategic direction. Market rumors had abounded that he may have been considering taking the company private.
In August, the company announced that ~50% of Wilson's stake, or 13.85% of the company's outstanding shares, would be acquired by private equity player Advent International. The deal won board approval. Wilson also stepped down from the board in February this year.
[marketrealist-chart id=638992]
Article continues below advertisement
Market impact of a stake sale
Wilson's stake is large, representing 14.1% of the total outstanding shares. A full or partial stake sale on the open market may affect LULU's price in the short term. LULU dropped by 1.0% on June 11. It had risen by almost 11% on June 9, the day the company released its 1Q16 results.
That being said, this change may prove to be beneficial in the long term for the vertically integrated retailer (XRT)(RTH) as shareholder and management direction become better aligned. In comparison, peers in the consumer discretionary (XLY)(FXD) sector Nike (NKE) and Under Armour (UA) have had a strong relationship with their founders. This is a competitive advantage where stock price performance is concerned.
Nike and Under Armour also recently announced governance changes. To learn more, read our earlier article Athletic Firms See a Slew of Governance-Related Announcements.
For a detailed business overview of Lululemon Athletica, read Company Overview: An Investor's Key Guide to Lululemon Athletica.
For more sector updates and analysis, visit our Consumer & Retail page.