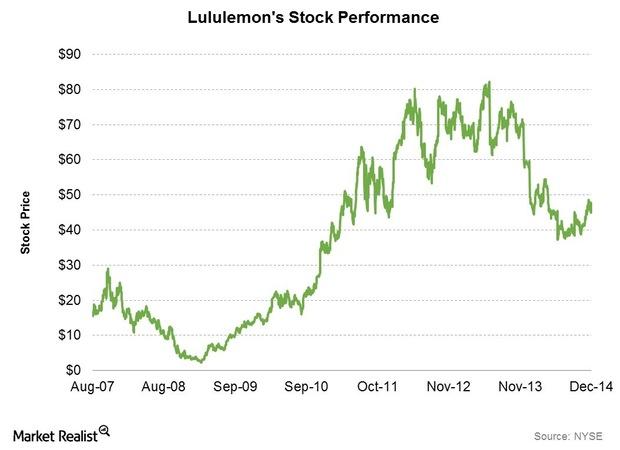 Lululemon Attempts To Reinvigorate Its Interrupted Growth Model
Lululemon: A yoga-inspired apparel company
Lululemon Athletica (LULU) designs and sells performance apparel that's primarily inspired by yoga and other fitness activities. Its clothes retail under the Lululemon and Ivivva brand names. LULU designs and uses technical fabrics for its apparel, which are more suited to athletic pursuits.
Article continues below advertisement
Article continues below advertisement
Company's history and mission
The company is based in Vancouver, Canada. It was founded by Dennis "Chip" Wilson in 1998. The company was formed to fill a perceived need for athletic apparel for women. The company's first store opened in 2000 in Vancouver. Since then, the company has expanded dramatically, both in Canada and abroad. Its store count stood at 289 stores located in the US, Canada, Australia, New Zealand, and the United Kingdom as of November 2, 2014.
LULU has a distinct corporate culture. It follows certain principles that it believes should help people live longer, healthier, fun-filled, and stress-free lives. These principles include sweating every day, breathing deeply, drinking lots of water, and getting outdoors every day.
The company's approach to marketing its brand is community-based, revolving around its retail outlets. Each store regularly organizes local events, which increases customer engagement. This approach also keeps the brand in the spotlight within communities and encourages repeat store visits.
LULU's growth history
LULU's unique philosophy and technical product have seen the company grow its revenues and earnings per share at a compound annual growth rate (or CAGR) of 35.1% and 46.6%, respectively, over the past five years (fiscal years 2009–14). The company first went public in late July 2007.
Since August 1, 2007, the stock is up by over 240%, at $52.95 on December 12. In comparison, the S&P 500 Index (SPY) has increased by ~36.6%. LULU's competitors NIKE (NKE), The Gap (GPS), and VF Corporation (VFC) are up 238%, 132.9%, and 236.6%, respectively, over the same period.
LULU's share price had reached an all-time high of $82.28 on June 10, 2013, before operational and management issues impacted earnings and share prices. Despite the slump in price, the company's business model still shows a strong growth promise.
In this series, we'll provide an overview of Lululemon Athletica, its financials (including its latest quarterly results), and its strategies.