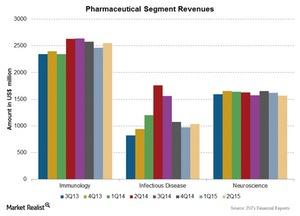 Johnson & Johnson's Pharmaceuticals Segment Grows in 2Q15
Pharmaceuticals segment
Johnson & Johnson's (JNJ) Pharmaceuticals segment grew by 1.0% at constant exchange rates, reporting a revenue of ~$7,946 million for 2Q15 over 2Q14. Foreign exchange impacted this segment negatively by 7.6%, resulting in an overall fall of 6.6% for this segment's revenues.
Article continues below advertisement
Article continues below advertisement
Immunology franchise
The immunology franchise grew 1.9% at constant exchange rates to $2.55 billion during 2Q15. Increased sales for immunology drugs such as Stelara and Simponi in US markets were substantially offset by lower sales of Remicade due to loss of exclusivity in Europe and a weakening of the euro.
Remicade, the blockbuster drug for the treatment of arthritis, reported sales of $1.67 billion in 2Q15, down ~7.5% over 2Q14. Remicade sales are expected to reduce further due to the biosimilar versions of Remicade already introduced into the market.
Both Stelara and Simponi/Simponi Aria have an annual combined revenue of more than a billion dollars. Stelara, a drug for the treatment of psoriasis, reported a revenue increase of ~8% to $570 million for 2Q15 over 2Q14. The company expects Stelara to grow 15% annually with strong growth in US as well as international markets.
Simponi and Simponi Aria, both used for the treatment of rheumatoid arthritis and psoriatic arthritis, reported a ~9.2% increase in revenues at $308 million for 2Q15 over 2Q14.
Stelara competes with Amgen's (AMGN) and Pfizer's (PFE) Enbrel and Abbott's (ABT) Humira.
Article continues below advertisement
Infectious disease franchise
Infectious disease franchise revenues fell more than 33% to $1.0 billion during 2Q15 over 2Q14 due to lower sales of Hepatitis C products, including Olysio, Sovraid, and Invico, as a result of increased competition. Revenues for Olysio and Sovaid fell more than 68% to $264 million during 2Q15. These revenues will fall further in the future due to increased competition in US markets.
Neuroscience franchise
Neuroscience franchise revenues rose 5.6% at constant exchange rates to $1.5 billion during 2Q15. Concerta revenues grew in US markets due to reclassification of generic competitors. Other drugs like Invega Sustenna and Xeplion also reported increases in sales due to higher demand. The US divestiture of Nucynta negatively impacted the growth for this franchise.
Investors can consider ETFs like the Health Care Select Sector SPDR ETF (XLV), which holds ~9.7% of its total investments in Johnson & Johnson.