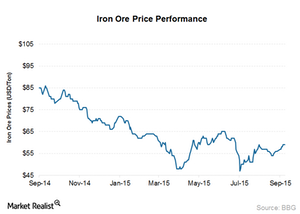 Iron Ore Prices Are Holding Steady Thus Far
Iron ore prices are steady
Since the end of July, benchmark iron ore prices have been holding steady near $55–$57 per ton. This is despite the continuing slide in other commodities including copper and aluminum amid China slowdown worries. Lower iron ore inventories and an expected seasonal upturn could be possible factors that help iron ore in the near future.
Article continues below advertisement
Series summary
In this series, we'll see how recent data releases from China have impacted iron ore prices and what the outlook for iron ore is based on these indicators. We'll also look at iron ore companies' revenues, margins, and stock prices. These companies include BHP Billiton (BHP) (BBL), Rio Tinto (RIO), Vale SA (VALE), and Cliffs Natural Resources (CLF).
The iShares MSCI Global Metals & Mining Producers ETF (PICK) invests in iron ore. BHP Billiton is PICK's top holding, making up 16.7% of the fund. The SPDR S&P Metals & Mining ETF (XME) also invests in the metals and mining space.
We'll also look at a few indicators that relate to China's demand for iron ore. These include China's PMI, iron ore imports, and steel production. This will help investors understand the direction that iron ore prices could go in the future.
Most of these indicators are published monthly, and other indicators are reported weekly or quarterly. Regardless, investors should look at these indicators collectively, as they give important clues about the direction of iron ore prices.
In the next part of this series, we'll see how China's recent policy measures, including interest rate cuts and changes in reserve requirements, are expected to impact iron ore demand.