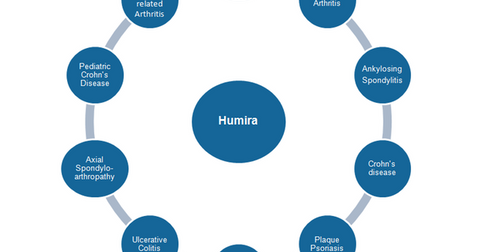 Humira Continues to Dominate AbbVie's Revenues
By Margaret Patrick

Sep. 23 2015, Updated 8:07 a.m. ET
Humira
Humira (adalimumab) was launched in the US market in 2002 as a treatment for rheumatoid arthritis. Since then, the original Abbott Laboratories and its later spin-off AbbVie (ABBV), which became the owner of Humira, have aggressively expanded the drug's approved indications.
The above diagram shows the labels for which Humira is approved, either in the United States or in other international markets.
Article continues below advertisement
TNF inhibiting drug
Humira belongs to the class of tumor necrosis factor (or TNF) inhibiting drugs. TNF is a protein used to signal infection or tumor in the body. This is manifested by symptoms such as fever, inflammation, and weight loss. The body's immune system then targets the infection or tumor in the body.
In case of autoimmune diseases such as rheumatoid arthritis, psoriatic arthritis, and ankylosing spondylitis, the body produces excess TNF protein, causing the immune system to attack healthy tissues.
Drugs such as Humira by AbbVie; Remicade by Johnson & Johnson (JNJ), Merck (MRK), and Mitsubishi Tanabe Pharma; and Enbrel by Pfizer (PFE) help control TNF levels, suppressing inflammation and other signals that can trigger abnormal functioning of the immune system.
Geographic presence
Humira managed to earn revenues worth $12.5 billion, which was about 63% of AbbVie's total earnings, in 2014. In addition to its application in several indications, Humira is also approved in more than 60 markets in the world.
However, Humira's composition of matter patent in the United States is expected to expire in December 2016 and in most European countries in April 2018. The first biosimilar for Humira, called Exemptia, has already been introduced in the Indian market by Cadila Healthcare.
Analysts expect that AbbVie's Humira will face tough biosimilar competition following its patent expiration. To know more about the different types of patents, please refer to our article Patents and the Biotechnology Sector.
Though Humira continues to be a strong TNF inhibiting therapy, some investors may want to limit their direct exposure to AbbVie. Instead of investing directly in the company, you can choose to invest in the VanEck Vectors Pharmaceutical ETF (PPH). PPH holds 4.84% of its total holdings in AbbVie.