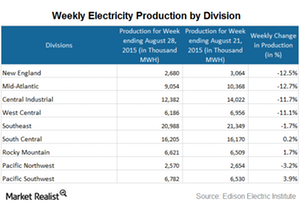 Electricity Generation Falls in All Major US Census Divisions
By Mike Sonnenberg

Nov. 20 2020, Updated 4:27 p.m. ET
Electricity generation by region
As we saw in part 4 of this series, electricity generation in the United States dropped 4.7% to 83.5 million megawatt-hours during the week ending August 28. Electricity generation in six out of nine census regions fell during the week.
Article continues below advertisement
Eastern US
The New England division saw a drop in electricity generation of 384,000 megawatt-hours, or mWhs, to 2.7 million mWhs during the week ending August 28.
The Mid-Atlantic division saw a drop of 1.3 million mWhs, or 12.7%, in generation to 9.1 mWhs. Utilities (XLU) such as Consolidated Edison (ED) and Public Service Enterprise Group (PEG) operate in the Mid-Atlantic division.
The Southeast division, the largest in the United States by electricity production, saw a plunge of 361,000 mWhs, or 1.7%, in electricity generation to 21.0 mWhs. Some of the largest utilities such as NextEra Energy (NEE) and Southern Company (SO) operate there.
Central US
The Central Industrial division saw a drop of 1.6 million MWhs in electricity generation during the week of August 28. The division reported electricity generation of 12.4 mWhs during the week.
The West Central division reported a drop of 770,000 mWhs (or 11.1%) in generation to 6.2 million mWhs. Electricity generation in the South Central division increased marginally during the August 28 week.
Western US
The Rocky Mountain and the Pacific Southwest divisions reported increases in electricity generation of 112,000 mWhs (or 1.7%) and 252,000 mWhs (or 3.9%), respectively.
The Pacific Northwest division saw electricity generation fall by 84,000 mWhs (or 3.2%) to 2.6 million mWhs.