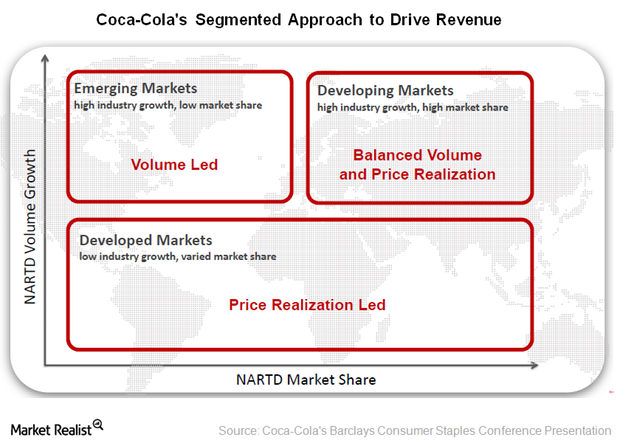 Coca-Cola's Segmented Revenue Approach
By Sirisha Bhogaraju

Sep. 29 2015, Updated 11:08 a.m. ET
Changing revenue approach
At the Barclays Global Consumer Staples Conference on September 9, James Quincey, president and COO (chief operating officer) of Coca-Cola (KO), talked about how the company is moving away from a common approach to drive revenue to a more clear segmented approach across various regions.
Article continues below advertisement
Segmented revenue approach
Coca-Cola is now following a segmented approach for developing sustainable revenue growth. Beginning in 2015, Coca-Cola added revenue growth as a metric in its incentive plan.
In developed markets like the United States, where the company has lower growth prospects compared to other regions, Coca-Cola is following a price-realization–led strategy.
The company is also focused on package mix in developed regions. Coca-Cola is benefiting from sales of smaller packages that carry higher prices per ounce and hence deliver better margins. Coca-Cola makes up 4.8% of the portfolio holdings of the iShares Global Consumer Staples ETF (KXI).
In 2Q15, Coca-Cola's North America net operating revenue increased by 3.5% due to higher pricing and favorable package mix. Coca-Cola's pricing power in the US market is backed by its dominant position. According to Beverage Digest, Coca-Cola held a 42.3% volume share of the US carbonated soft drink (or CSD) market in 2014. PepsiCo (PEP), Dr Pepper Snapple (DPS), and Cott (COT) held a market share of 27.5%, 17.1%, and 4.2%, respectively.
Strategy for developing and emerging markets
In developing markets like Argentina, Coca-Cola's revenue strategy is based on creating a balance of volume and pricing. In emerging markets like India, Coca-Cola follows a volume-based revenue strategy. This is because the company's initial priority in emerging markets is to establish distribution systems, enhance the scale of operations, create awareness about its products, and build its beverage brands.
For instance, in China, Coca-Cola opened two production facilities in August 2015 as part of its $4 billion investment program in the country. China is the third-largest market by volume for Coca-Cola and is a key growth area for the company.
A segmented revenue approach is one of Coca-Cola's strategic initiatives to transform its business. In the next part of this series, we'll see how the company intends to focus on its core business model.