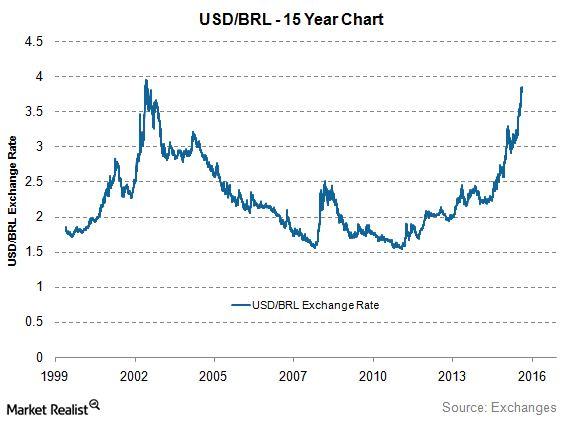 Brazilian Real Nears All-Time Lows in 2015
By David Meyer

Sep. 14 2015, Published 11:07 a.m. ET
Brazilian real: boom and bust
The Brazilian real has been trading on a weaker note against the US dollar in the last year after depreciating by more than 40% against the US dollar in comparison to the end of 2014. The currency had been appreciating against the US dollar during the commodity boom phase after 2002, paving the way for strong macroeconomic fundamentals. However, during the global economic recession of 2008, the real lost some of its value.
Article continues below advertisement
Severe problems in the Brazilian economy
There have been a slew of problems affecting the fair value of the Brazilian real this year. In the past, Latin American economies had been thriving on growing demand across the world for Chinese manufactured goods, the raw materials for which were exported from these South American nations. However, in the face of falling demand and a slowdown in China, economies that majorly rely on commodity exports have taken a hit.
Internationally, crude prices and basic metals have been falling in value, severely affecting exports. Also, inflation levels for Brazil are at a high level of 9.53% with a target level of 4.5%. Also, the political crisis engulfing the country with President Rousseff facing impeachment charges has been causing sluggish investment sentiment in the economy.
On a macroeconomic level, the country's gross domestic product was in negative territory, while the manufacturing activity was way below the threshold level of 50, indicating a slowdown in production. In August 2015, the slew of competitive devaluation also took a toll on the Brazilian real after the sudden yuan devaluation that rocked emerging currency markets.
Impact on the market
Brazilian markets have been in a free fall in the period from January 1, 2015, to September 10, 2015. The iShares MSCI Brazil Capped ETF (EWZ) saw a fall of 34.53%, while the iShares Latin America 40 ETF (ILF) has fallen by 24.37% since the start of the year.
Brazilian ADRs (American depository receipts) were also on a similar down trend during this period, with the banking-related ADR Banco Bradesco (BBD) shedding nearly 54.13%. Airline company Gol Linhas Aereas Inteligentes (GOL) has also suffered heavy losses since the start of the year and saw a staggering 79.12% fall. In contrast, Brazilian brewing company Ambev (ABEV) posted a slightly lower fall of 16.47% since the start of the year.