Altria's Heritage of Innovation and Investments in R&D
Altria's R&D expenses for fiscal 2014 were $0.2 billion, or 0.9% of net sales. Its R&D expenses upped by 9.2% in 2014, reflecting a trend toward innovation.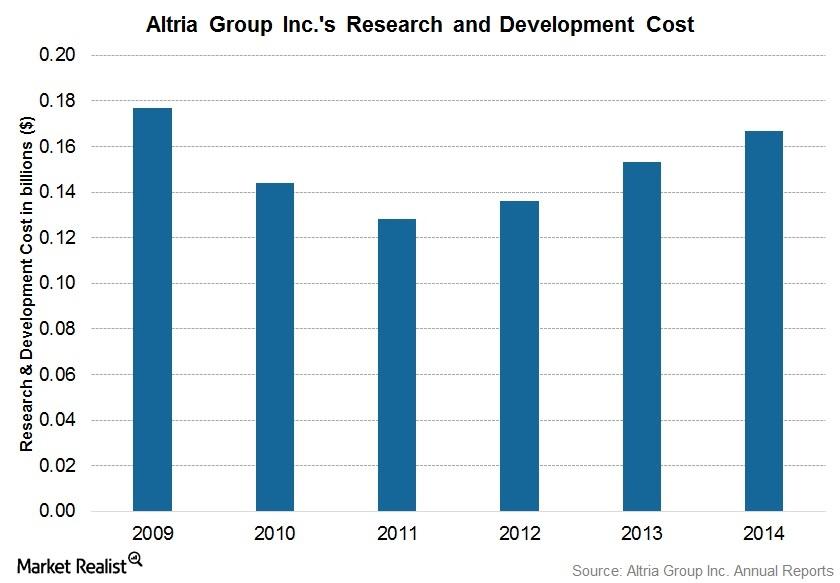 Research and development for innovation
Altria Group (MO) is a leading manufacturer and seller of tobacco products and wine. The company believes in a strong R&D (research and development) function for an innovative product pipeline. Altria's R&D expenses for fiscal 2014 came in at $0.2 billion, or 0.9% of its net sales. Its R&D expenses increased by 9.2% in 2014, compared to 2013.
The increase was primarily due to increased investments in the development of innovative products. Apart from e-vapor innovative product MarkTen, the company also introduced product innovations in their core cigarette and cigar segment. Altria's subsidiaries Philip Morris USA, USSTC, and Middleton drive innovation in products, packaging, equity campaigns, and promotions.
Article continues below advertisement
Article continues below advertisement
Innovations in comparison to peers
The recent innovation of Marlboro NXT and Marlboro Edge in the Marlboro Black family increased the retail (XRT) share of Marlboro cigarettes in 2014. In order to reach adult snuff users with different smoke preferences, Copenhagen entered the Long Cut Wintergreen category and later added Pouch Wintergreen.
These innovations helped broaden the Altria's smokeless tobacco products.USSTC also launched Skoal X-TRA, which boasts a bold and smooth taste, for adult snuff users in 2011. However, Skoal Classic lost market share by a large price gap versus the leading discount brands like Reynolds American's (RAI) Grizzly and Imperial Tobacco's (ITYBY) Skruf.
Other companies like Philip Morris International (PM), a former subsidiary of Altria, and British American Tobacco (BTI), also focus on innovative new tobacco and nicotine-based products. These include e-cigarettes, medicinal nicotine products, and tobacco heating products. To learn more about Philip Morris's innovative RRPs (reduced-risk products), please read "Philip Morris's New Innovative Products in the Reduced-Risk Tobacco Market."
Initiatives
Due to higher volumes in the tipped cigar segment in 2014, Middleton plans to expand the segment with a new innovative product called Black & Mild Casino, a dark tobacco blend. The company plans to expand the product nationally. Philip Morris USA also plans to support Marlboro's share momentum through new product development.
Altria has exposure in the iShares S&P 100 ETF (OEF) with ~1.0% of the total weight of the portfolio as of September 3, 2015.
In the next part of this series, we'll look at Altria's increased capital spending.