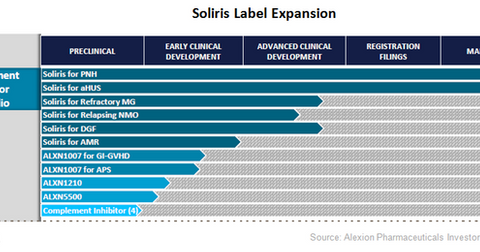 Alexion Pharmaceuticals Expands Soliris Labels
By Margaret Patrick

Sep. 29 2015, Updated 8:07 a.m. ET
Soliris will complement inhibitor portfolio
Alexion Pharmaceuticals is actively involved in expanding the approved labels for its flagship product Soliris.
The above diagram shows the various indications explored for Alexion Pharmaceuticals' (ALXN) Soliris and their respective development phases. Belonging to the complement inhibitor portfolio, Soliris works by suppressing the abnormal function of the complement system, a part of the immune system that helps the body to fight infections. In addition, there are other compounds being explored to treat various immunity related diseases.
Article continues below advertisement
Soliris label expansion
Similar to peers such as AbbVie (ABBV), Gilead Sciences (GILD), and Regeneron (REGN), which are actively exploring additional labels for their blockbuster drugs Humira, Harvoni, and Eylea, respectively, Alexion Pharmaceuticals is also actively exploring additional indications for Soliris. Soliris is in advanced clinical development phase for refractory myasthenia gravis (or MG), relapsing Neuromyelitis optica, and delayed graft function.
Myasthenia gravis
A chronic condition, myasthenia gravis causes muscles to tire and weaken quickly. Currently in phase three clinical trials, Soliris has already been granted orphan drug designation (or ODD) in the US, Europe, and Japan for treatment of patients with MG.
Article continues below advertisement
Neuromyelitis optica
Alexion Pharmaceuticals describes neuromyelitis optica (or NMO) as "a severe and ultra-rare autoimmune disease of the central nervous system (or CNS) that primarily affects the optic nerves and spinal cord." Each attack of NMO can lead to paralysis or blindness. Similar to MG, Soliris has also received ODD in the US, Europe, and Japan for NMO.
Delayed kidney transplant graft function
Alexion Pharmaceuticals describes delayed kidney transplant graft function (or DGF) as "the failure of a kidney or other organ to function immediately after transplantation." Currently in phase three clinical trials, Alexion aims to treat DGF with two doses of Soliris. Low usage frequency is also a major factor contributing to the success of a pharmaceutical drug.
Additionally, Soliris is also being explored for use in antibody mediated rejection (or AMR) in presensitized kidney transplant patients. According to Alexion Pharmaceuticals, "AMR is the term used to describe a type of transplant rejection that occurs when the recipient has antibodies to the donor organ."
There are other compounds such as ALXN1007, ALXN1210, and ALXN5500 in the early stage development pipeline that are targeted at rare diseases caused from abnormal activity of the complement system.
You can get exposure to Alexion Pharmaceuticals' strong complement inhibitor portfolio, yet avoid unique company risks by investing in the iShares Nasdaq Biotechnology ETF (IBB). Alexion accounts for 5.07% of IBB's total holdings.