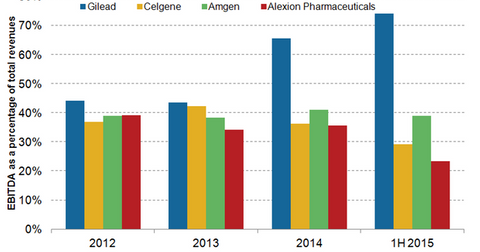 Alexion Pharmaceuticals' Cost Structure and EBITDA Margins
By Margaret Patrick

Updated
Biotechnology margins
Mature biotechnology companies generally earn earnings before interest, tax, depreciation, and amortization (or EBITDA) margins of about 30% to 40%. The EBITDA margins of rare disease leader Alexion Pharmaceuticals (ALXN), however, depend on the combined impact of pricing flexibility and targeted patient volumes of the company's orphan drugs.
The above graph shows that in the first half of 2015, Alexion Pharmaceuticals has underperformed its peers such as Gilead Sciences (GILD), Celgene (CELG), and Amgen (AMGN).
Article continues below advertisement
Alexion Pharmaceuticals' expense breakdown
Compared with the expenses in 1H14, Alexion Pharmaceuticals' total operating expenses increased by 46.3% in 1H15. The increase in total operating expenses can be attributed to higher research and development (or R&D) and selling, general, and administration expenses (or SG&A) as compared to 1H14.
Alexion Pharmaceuticals' R&D expenses consist of expenses related to clinical development, product development, licensing agreements, discovery research, payroll, and rent. In 1H15, R&D expenses were 28.5% of the total revenues, higher than the industry average of 20%. The high expenses are attributed mainly to expansion of studies related to Soliris and material costs for increased clinical research activities. In March 2015, Alexion entered into a collaboration with a third party to identify new drug candidates. The licensing-related expenses as well as increased research expenses related to Alexion's Moderna agreement for rare diseases with messenger RNA (or mRNA) platform have further added to Alexion's research expenses.
Alexion Pharmaceuticals also witnessed a rise in SG&A expenses in 1H15, as there were higher payroll and benefit-related expenses to former Synageva employees. Marketing costs for further label expansion of Soliris as well as for new product candidates and increase in administrative costs have contributed to Alexion's high SG&A expenses.
Acquisition and restructuring expenses are non-recurring expenses and are related to change in structure of Alexion Pharmaceuticals after the acquisition of Synageva Pharmaceuticals.
You can reduce exposure to Alexion Pharmaceuticals' high costs yet continue to participate in the upside potential by investing in the iShares Nasdaq Biotechnology ETF (IBB). Alexion accounts for 5.07% of IBB's total holdings.