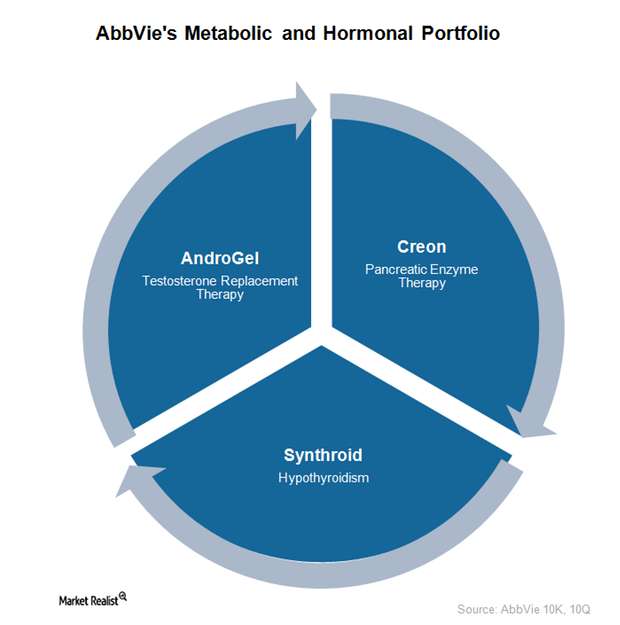 AbbVie Has a Strong Metabolic and Hormonal Portfolio
Metabolic and hormonal portfolio
AbbVie (ABBV) offers drugs such as AndroGel, Creon, and Synthroid to address various metabolic and hormonal-related medical conditions. AbbVie has the commercial rights for these drugs in the United States only.
Article continues below advertisement
AndroGel
AndroGel is available as 1% and 1.62% strength formulations. This drug is a testosterone replacement therapy administered to males with low testosterone levels. According to the U.S. Food and Drug Administration (or FDA), "Testosterone is a hormone essential to the development of male growth and masculine characteristics." Low testosterone levels can manifest as reduced sex drive, erectile dysfunction, hair loss, depression, and low energy levels.
AndroGel proved to be a blockbuster therapy and managed to earn $1.15 billion in revenues in 2012. In March 2015, the FDA announced that manufacturers should change the product's labeling to convey that the benefit of these therapies isn't established in cases of low testosterone due to aging.
The FDA also requires manufacturers to add information regarding possible increased risk of heart attacks and strokes in patients using these drugs. Health-care practitioners have been asked to refer the use of these drugs only in cases of patients with low testosterone caused by certain medical conditions that have been confirmed by laboratory tests.
FDA regulations have led to contraction in the overall testosterone market. The regulations have also led to an increase in safety concerns. These concerns, along with competition from Eli Lilly's (LLY) Axiron and AndroGel's 1.62% formulation and generic competition to AndroGel's 1% formulation, have led to a gradual fall in AndroGel's sales.
Article continues below advertisement
Creon
Creon accounts for 70% of the pancreatic enzyme market in the United States and is expected to further increase its market share. This drug is used by patients suffering with exocrine pancreatic insufficiency (or EPI). WebMD describes EPI as happening when "your pancreas doesn't make enough of the enzymes that your body needs to break down nutrients."
EPI can be found in people suffering from cystic fibrosis, chronic pancreatitis, and other conditions. Creon faces competition from drugs such as Johnson & Johnson's (JNJ) Pancreaze and Eurand Pharmaceuticals's Zenpep.
Synthroid
According to WebMD, "With hypothyroidism, your thyroid gland does not make enough thyroid hormone." WebMD adds that "if you don't have enough thyroid hormone, your body processes slow down. That means your body makes less energy, and your metabolism becomes sluggish." Despite competition from drugs such as Pfizer's (PFE) Levoxyl and other generic drugs, Synthroid, AbbVie's drug for hypothyroidism, continues to be a market leader in the United States.
To get exposure to AbbVie's metabolic and hormonal portfolio and also avoid company-specific risks, you can invest in the VanEck Vectors Pharmaceutical ETF (PPH). PPH holds 4.84% of its total holdings in AbbVie.