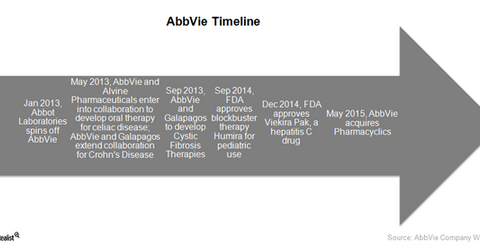 AbbVie: An Investor's Look at a Leading Biotechnology Company
By Margaret Patrick

Sep. 22 2015, Published 3:33 p.m. ET
Overview of AbbVie
With products offered in more than 170 countries around the world, AbbVie (ABBV) is focused on developing new products and services for people suffering with serious health conditions. The company is headquartered in North Chicago, Illinois. It employs about 28,000 professionals and operates 15 research and manufacturing facilities worldwide.
Article continues below advertisement
Company history
In January 2013, parent company Abbott Laboratories (ABT) split into two companies. The medical products business continued with the name Abbott Laboratories, and the pharmaceuticals business assumed the name AbbVie.
At the time of the spin-off, AbbVie accounted for about $18 billion in annual revenue, owning a strong portfolio of drugs such as Humira, AndroGel, Lupron, and Synagis. The company also had about 20 research projects targeting diseases such as hepatitis C, rheumatoid arthritis, psoriasis, multiple sclerosis, and multiple myeloma.
In 2013, AbbVie increased its focus on collaborations with companies such as Alvine Pharmaceuticals and Galapagos in order to develop drugs for diseases such as celiac disease, Crohn's disease, and cystic fibrosis.
The year 2014 further strengthened AbbVie's drug portfolio by adding a major hepatitis C drug, Viekira Pak, and by expanding the approved indications for blockbuster anti-inflammation therapy Humira.
In 2015, AbbVie opted for the inorganic route and acquired Phamacyclics. This acquisition included Imbruvica, a drug that targets hematological cancers. The acquisition of Imbruvica has opened a $24 billion hematological cancer market for AbbVie.
About AbbVie
With a market capitalization of $100.7 billion, AbbVie is one of the major biopharmaceutical companies in the United States. AbbVie competes with other major biotechnology companies such as Amgen (AMGN), Gilead Sciences, and Bristol-Myers Squibb (BMY), with market capitalizations of about $115.5 billion, $153 billion, and $99.4 billion, respectively.
Investors can invest in AbbVie while avoiding unique company risks by investing in the VanEck Vectors Pharmaceutical ETF (PPH). PPH holds 4.84% of its total holdings in AbbVie.