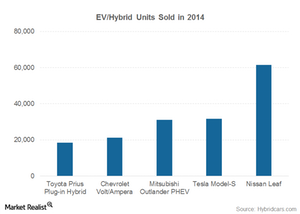 What Value Proposition Does Tesla Offer Its Customers?
Tesla's value proposition
Top managers in the consumer discretionary space (XLY) often ponder what value proposition they offer to their customers. A company may want to play on price or choose to offer an exquisite product. The automobile industry has a mix of players offering both propositions to the customers. While Ford (F) and General Motors (GM) largely seek to cater to the mass market segment, luxury brands such as Tata Motors (TTM), which owns Jaguar Land Rover, serve the top end of the market.
So, with enough players already fighting for space in this highly competitive market, where does Tesla Motors (TSLA) fit in? Let's see.
Article continues below advertisement
Article continues below advertisement
Electric vehicles
Electric vehicles are not a recent concept, and most top automakers have EVs in their portfolio. In 2014, the best-selling EV was Nissan's Leaf. The automaker sold more than 60,000 units of Leaf, more than twice the number units sold of Tesla's Model-S. Even in 2015, Tesla is not expected to sell more than 55,000 units.
The previous chart shows the best-selling electric vehicles in 2014 according to data compiled by HybridCars.com.
Where Tesla Motors stands
While other automakers offer electric vehicles as part of their portfolio, vehicles with internal combustion engines are still their bread and butter. This is no surprise, given the share of EVs in total vehicle sales is minuscule at best.
However, is Tesla just another electric vehicle manufacturer? After all, investors can't value a company selling 50,000 EVs a year at above $30 billion. Just for the record, that's 50% more than Fiat Chrysler's (FCAU) market capitalization. And Fiat has not been doing badly either. Its US sales have now increased month-over-month for more than 60 months.
So, what's unique about Tesla motors? We'll explore this in the next part of the series.