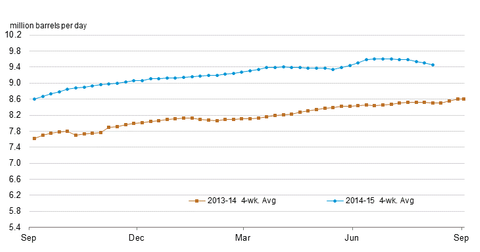 US Crude Oil Production, Imports Diverge: The Effect on WTI
By Keisha Bandz

Updated
Crude oil production
The EIA (U.S. Energy Information Administration) estimates that American crude oil production fell by 70,000 barrels per day (or bpd) to 9.395 million barrels per day (or MMbpd) in the week ended August 7, compared to the week ended July 31. But these levels are ~9.8% higher than last year's corresponding levels of ~8.556 MMbpd.
The four-week average production of 9.458 MMbpd in the week ended August 7 was 11.2% higher than the same period last year at ~8.504 MMbpd. The four-week average fell ~0.4% week-over-week. Looking at four-week averages gives you a smoother view of what's otherwise a volatile number week-over-week.
Article continues below advertisement
What this means
Lower production, meaning lower supply, is usually bullish for WTI crude oil prices and oil producers such as Hess Corporation (HES), EP Energy (EPE), Diamondback Energy (FANG), and Occidental Petroleum (OXY). HES, FANG, and OXY are components of the iShares U.S. Energy ETF (IYE). They make up ~5% of the fund.
However, MLPs such as Plains All American Pipeline Partners (PAA) stand to lose when production falls, as these companies make money by transporting energy.
Crude oil imports
Net crude oil imports increased by 393,000 bpd to average 7.573 MMbpd in the week ended August 7. The increase was driven by an increase in imports from Saudi Arabia, which increased to 1.03 MMbbls/d from 620,000 bpd recorded in the prior week. An increase in imports, meaning higher supplies, is usually bearish for WTI crude oil prices.
Imports were ~3.5% lower than last year's levels during the same week. The four-week average of ~7.56 MMbpd up to the week of August 7 was 1% lower than last year. It was ~0.7% higher than the previous four-week average up to July 31.
Supply forecasts for 2015 and 2016
According to the EIA, crude oil production will average 9.4 MMbpd in 2015 and 9.0 MMbpd in 2016. The decline in 2016 is expected to be driven by weak crude oil prices. In comparison, crude oil production averaged 8.71 MMbpd in 2014.
The EIA forecasts average net imports of 6.74 MMbpd in 2015 and 6.97 MMbpd in 2016.
In the next part of this series, we'll take a look at the latest demand trends.