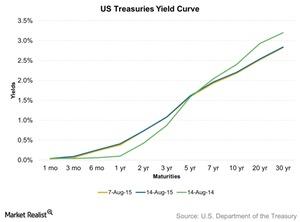 Treasury Yields Rise as the Producer Price Index Inflation Rises
By Lynn Noah

Updated
Secondary market
US Treasury yields rose across the yield curve for the week ending August 14, 2015, due to a rise in the PPI (Producer Price Index). However, the rise in the yields was restricted to single digits. For two-year and three-year notes there wasn't a week-over-week change in yields.
The yield on the benchmark ten-year Treasury note rose by 2 basis points week-over-week. It ended at 2.20%.
Article continues below advertisement
PPI leads the rise
Several economic indicators were released last week. They painted a positive picture of the US economy. The PPI was up 0.20% month-over-month while the PPI—excluding food and energy—was up 0.30%. Treasury yields rose because the rise in the PPI indicates a rise in inflation. This could give the Fed enough confidence to raise rates.
Industrial production was up in July as the industrial and auto sectors saw an improvement in new orders. As a result, companies like Caterpillar (CAT), Boeing (BA), General Motors (GM), and Ford (F) benefitted.
China's currency devaluation
China's central bank, the People's Bank of China, devalued its currency, the yuan—also called the "renminbi"—for three consecutive days last week. As a result, yields on longer-dated Treasury securities fell. This was primarily due to a rise in demand for safe-haven securities. Also, a strong dollar leads to a rise in the demand for US securities.
The currency devaluation by China adds fuel to the ongoing speculation on the timing of the interest rate hike by Fed.
Investment impact
Mutual funds like the American Funds US Government Sec A (AMUSX) and the MFS Government Securities A (MFGSX) provide exposure to Treasury securities.
The AMUSX invests almost 83% of its assets in Treasury securities. Its weekly returns came in at 0.21%.
The MFGSX invests nearly 43% of its assets in Treasury securities. The fund's week-over-week returns were 0.24%.