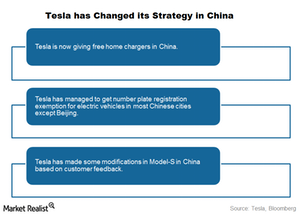 What Is Tesla Doing to Put Things Right in China?
Tesla in China
As discussed previously, Tesla (TSLA) has faced challenges in China. However, according to Tesla, its Model-S orders doubled in Asia in 2Q15. The company has changed its strategy in China to boost sales there. Tesla is also planning to increase its retail stores to five in China. Currently, the company has only one retail store there.
Article continues below advertisement
Article continues below advertisement
Free home charging
Tesla is giving away free home chargers in China. However, in its 4Q14 earnings conference call, Tesla admitted that this is the standard industry practice in China, and it is "just matching what competitors do."
Moreover, China (FXI) (MCHI) has put some restrictions on new vehicle registrations. This was necessary because of rising congestion and pollution in major cities. According to Tesla, the company has been able to get an exemption for electric vehicle registrations in all major Chinese cities barring Beijing.
New product strategy?
In response to customer feedback, Tesla has made slight modifications to its Model-S in China, including an "executive rear seat" option. The option, which costs $2,000 over the standard model, aims to make the rear seat experience more comfortable.
Unlike the upper class in developed markets such as the US and Europe, most wealthy people in countries such as China and India move in chauffer-driven cars. It is, therefore, crucial for Tesla to make slight product changes to suit Chinese conditions.
Currently, Tesla does not have any joint venture in China. However, most other automotive companies including Ford (F) and General Motors (GM) have formed joint ventures with domestic Chinese companies. As Tesla grows in China, it might want to explore joint venture partners in the country.
In the next part of this series, we'll analyze Tesla's financial performance.