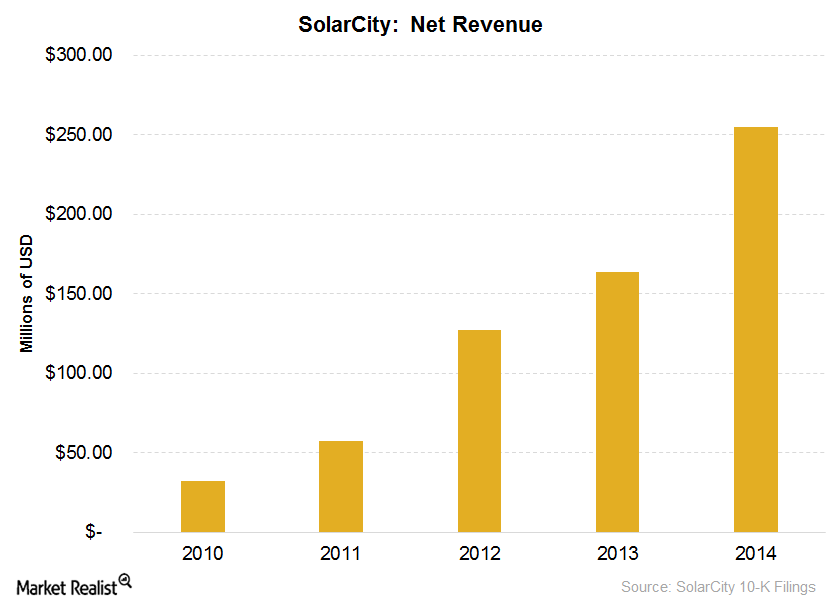 Introducing SolarCity, a Powerhouse in Solar Technology
History
Founded in 2006, SolarCity (SCTY) is a vertically integrated solar company headquartered in California with operations across 15 US states. The company had its initial public offering in December of 2012. The executive team consists of individuals renowned for technological innovation, including its founder and CEO, Lyndon Rive, and its chairman, Elon Musk. Despite its ventures in advancing technology and its expanding reach across end markets, the company has seen negative earnings all years since 2007, with the exception of 2011.
Article continues below advertisement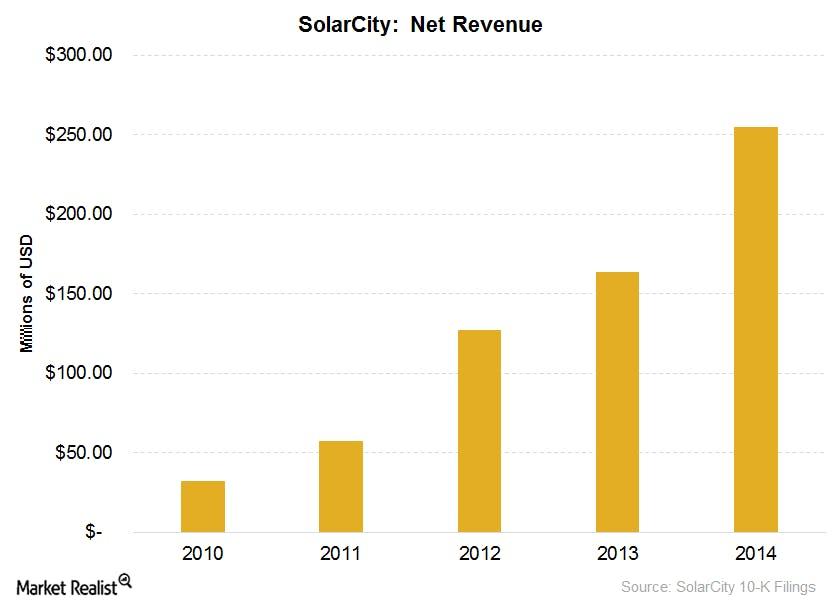 Business activities
SolarCity is engaged in the sale, financing, engineering and manufacturing, installation, monitoring, and maintenance of solar energy systems. The company also focuses on energy storage. SolarCity's primary business activities are divided into two revenue streams:
operating leases and solar energy system incentives
solar energy systems and component sales
We'll talk more about these revenue streams in the next part of the series.
Article continues below advertisement
End markets
SolarCity primarily serves residential, commercial, and government markets. The residential solar market includes individual homeowners switching to solar, as well as homeowners in communities developed by home builders, while commercial customers are spread across various business sectors including technology, retail, manufacturing, and agriculture. SolarCity's notable commercial customers include Walmart, eBay, HP, Walgreens, and Intel. Its government customers include a range of government entities, such as the Department of Homeland Security and the US Military, cities like San Jose and Sacramento, and an array of schools and state universities across the country.
Key competitors
SolarCity's key competitors in the residential market include companies like SunPower Corporation (SPWR), Vivint Solar (VSLR), Sungevity, Solar Universe, and NRG Home Solar, which is operated under the large utility company NRG Energy (NRG). Some of these companies are vertically integrated across the solar value chain, whereas some focus on residential solar. Some, unlike SolarCity, have international operations. SolarCity also competes against local companies like Sunrun (RUN) and Verengo (VEREP).
In the commercial solar energy system installation market, SolarCity competes against private companies like Borrego Solar Systems, Gehrichler Solar America Corporation, and Nexamp, which are also vertically integrated and operate within the US. SolarCity's competition in the commercial market also includes SunEdison (SUNE) and First Solar (FSLR), which are vertically integrated as well, but operate internationally.
In the next part of the series, we'll look at SolarCity's business model.