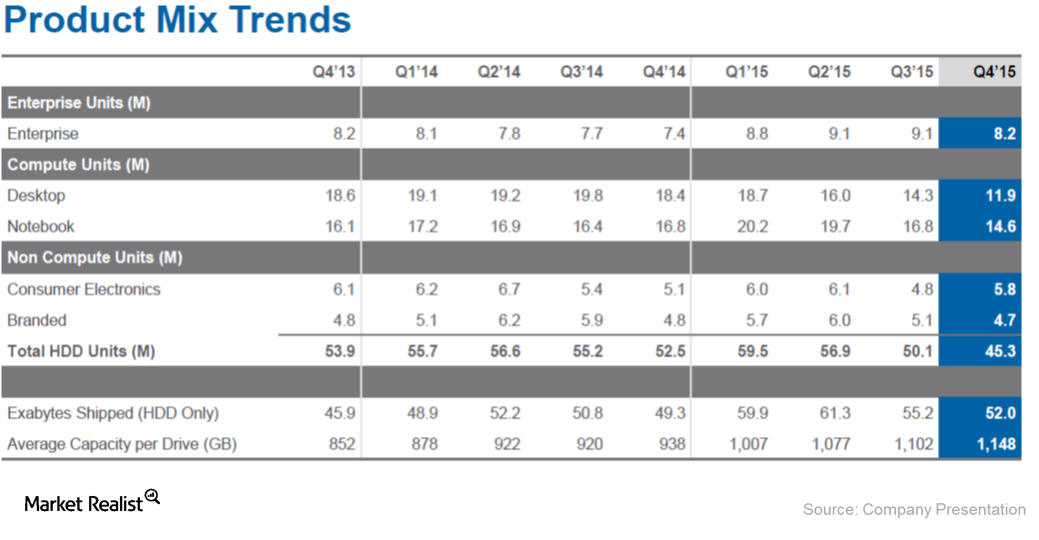 Seagate Technology's Enterprise Storage Segment Sees 4Q15 Growth
Decline in net shipments
Net shipments for Seagate Technology (STX) declined by 14% in 4Q15 to 43.1 million units in comparison to 51.15 million units in 3Q15 on a quarter-over-quarter basis. The average selling price (or ASP) per hard disk drive sold was flat at $60 in comparison to 4Q14.
Article continues below advertisement
Enterprise storage
Strong momentum in sales was observed in the enterprise-grade hard drives segment, which saw an increase of 11% in 4Q15 on a YoY (year-over-year) basis with 8.2 million hard drives sold. In the second half of 2014, the firm's enterprise storage shipments were 17.4 million units, which was an increase of 13% YoY. This trend has extended to the first half of 2015 as well, where the enterprise storage shipments were 17.3 million units, a 15% YoY increase.
Thus for fiscal 2015, this segment saw a 14% rise in shipments with 35.2 million units sold. Seagate expects growing demand in the segment to continue for fiscal 2016 due to hyperscale deployments for data science applications and machine-to-machine data creation.
Slowdown in PC business
Seagate also saw a decline in the number of PC shipments from 3Q13 to 4Q15, with the exception of 3Q14 when shipments grew by 1% in this segment. Shipments declined 27% YoY in 3Q15, and the trend continued in 4Q15 with shipments declining by 35% YoY to 11.9 million units.
PC shipments might pick up in the next few quarters, as Microsoft (MSFT) is expected to launch Windows 10 in 2015, which is likely to positively impact revenues of STX and industry peers like SanDisk (SNDK) and Western Digital (WDC). However, analysts are of the opinion that demand for PCs is likely to stabilize from 2016 onwards.
Seagate makes up 0.09% of the SPDR S&P 500 ETF Trust (SPY) and 0.39% of the Technology Select Sector SPDR Fund ETF (XLK).