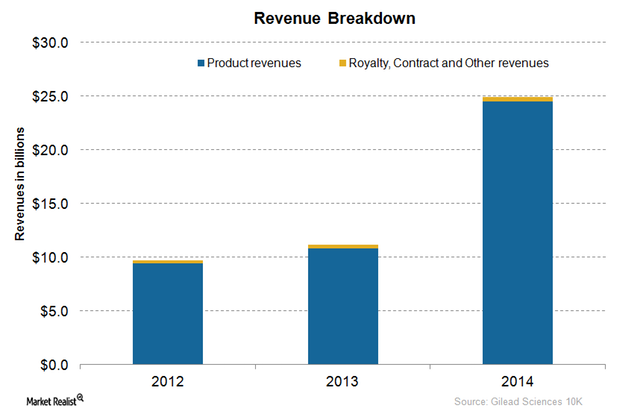 An Overview of Gilead Sciences' Business Model
Gilead's business model
Gilead (GILD) generates revenues in two ways:
product sales
royalty, contract, and other revenues
Article continues below advertisement
Article continues below advertisement
Product revenues
Gilead Sciences is considered to be the market leader in the treatment of HIV. The company has an extensive portfolio of HIV drugs such as Viread, Atripla, Truvada, Stribild, and Complera, or Eviplera in Europe. These medications are termed as antiretroviral drugs and are formulated as a combination of three or more drugs. However, Gilead's entire HIV product portfolio is based on Viread, which is a brand name of a compound called tenofovir. These drugs accounted for about 42% of the company's total revenues in 2014. Gilead Sciences has entered into a contract with Teva Pharmaceuticals (TEVA) to delay the launch of its generic Viread version until December 2015, when the original drug will lose its patent protection. The company is also actively involved in developing HIV drugs based on another compound, tenofovir alafenamide, with an improved safety profile. This will help Gilead protect itself from market erosion once Viread goes off patent.
Gilead is also a leading company in manufacturing drugs for HCV (hepatitis C virus) patients. Sovaldi and Harvoni, introduced in 2013 and 2014, respectively, proved to be an immediate success and boosted the company's profitability. Gilead has also actively entered into contracts with health insurance companies and offered substantial pricing discounts, so that the drugs are included in their benefit plans. In addition, the company has a presence in other lucrative therapeutic areas such as oncology and treatment of antifungal infections and cardiovascular diseases.
Royalty, corporate, and other revenues
Biotechnology companies such as Amgen (AMGN), Biogen, Celgene (CELG), and Gilead also earn revenues from licensing arrangements. In a licensing arrangement, a biotechnology company generally transfers its patented drug technology to a larger biotechnology or pharmaceutical company in exchange of an upfront payment called a license fee. In addition, the seller may require the buyer to pay a fixed percentage of its sales or profits from the commercialization of its transferred drug technology. This is referred to as a royalty. Gilead's royalty and contract revenues are mainly derived from its sales of Tamiflu, a drug for influenza A and B, through Roche.
Investors can get diversified exposure to Biogen's business while protecting themselves against excessive company-specific risks by investing in the iShares NASDAQ Biotechnology ETF (IBB). IBB holds 7.89% of its holdings in Gilead's stock.