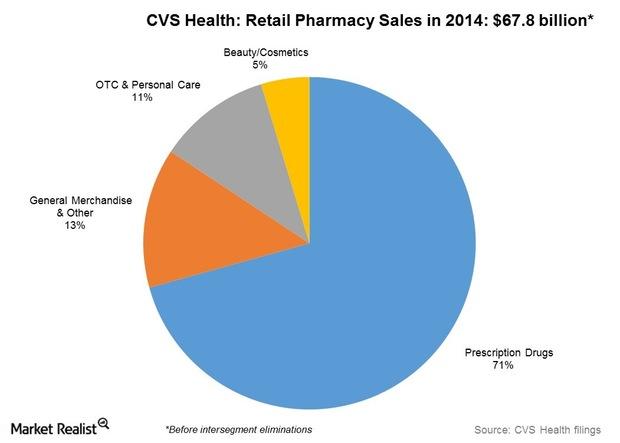 Major Factors Driving CVS's Retail Pharmacy Segment Growth
CVS Health's guidance for 2Q15
CVS Health (CVS) expects Retail Pharmacy sales growth between 0.5% and 2% year-over-year in 2Q15. Total same-store sales are expected to be in the range of -1.25% to 0.25%. Adjusted script comps (comparables) growth is projected between 4.25% and 5.25%. This implies segment sales in the region of $16.9–$17.2 billion in the quarter. However, growth is expected to be negatively impacted by last year's exit from tobacco products. As a result, CVS estimates an 8% decline in front store comps in 2Q15.
Article continues below advertisement
Retail Pharmacy segment overview
The Retail Pharmacy segment includes the sale of prescription and OTC (over-the-counter) drugs, beauty and personal care products, and general merchandise. CVS Health (CVS) is the largest pharmacy chain in the United States in terms of sales and market cap. It accounts for ~21% of the total prescription revenue. Walgreens Boots Alliance (WBA) has ~19.3% share of the retail prescription market.
CVS's Retail Pharmacy segment clocked sales and operating profit of $67.8 billion and $6.8 billion, respectively, in 2014. Most sales, or ~$47.9 billion, came from the sale of prescription drugs.
1Q15 sales drivers
Sales for CVS's Retail Pharmacy segment rose 2.9% to $16.9 billion in 1Q15. The sales' upside came about through both new store openings and higher same-store sales. CVS increased its net retail drug store count by 28 in the quarter. In contrast, net store count for rival Rite Aid (RAD) fell by four in the last reported quarter. RAD has been in the midst of a transformation in the last few quarters. It's also been remodeling stores in line with its wellness focus.
CVS, Walgreens Boots Alliance, and Rite Aid together constitute 1.2% of the portfolio holdings in the iShares Russell 1000 Growth ETF (IWF) and ~1% in the iShares Russell 1000 ETF (IWB).