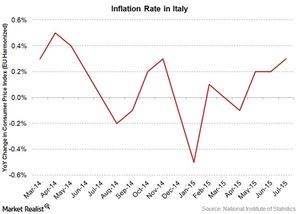 Italy's Inflation Rate Rose to 0.3% in July, yet EWI Fell 0.88%
ECB's monetary stimulus package benefits Italy
The ECB's (European Central Bank) monetary stimulus package seems to be working well for most Eurozone economies, especially Italy. Inflation in Italy has been rising since the second quarter this year. The latest report, published on August 11, shows that the inflation rate in Italy rose to 0.3% in July from the 0.2% recorded in June.
Consumer prices in the Eurozone (VGK)(FEZ) are improving. This is good news for European consumer-sector firms like Carnival (CUK), Diageo (DEO), British American Tobacco (BTI), InterContinental Hotels (IHG), Vodafone (VOD), and Unilever (UL). The iShares MSCI Italy Capped ETF (EWI) was, however, down by 0.88% on August 11's close.
Article continues below advertisement
Italy's inflation rose to 0.3% in July
According to the National Institute of Statistics' (or ISTAT) final inflation report that came out on August 11, inflation in Italy (EWI)—the EU harmonized rate—rose to 0.3% in July. Italy's inflation rate Italy has been rising trend since it officially climbed out of the EU's deflationary territory in March. Figures were below market expectations of a 0.4% increase in consumer prices.
Italy is outperforming the PIIGS nations
Over the last month, Italy has been outperforming the PIIGS nations, closely followed by Ireland, which is also gaining good ground. The PIIGS nations consist of Portugal, Ireland, Italy, Greece, and Spain. Over the past month, Italy (EWI) has yielded 3.23% while Portugal, Ireland, Greece, and Spain have yielded -5.17%, +2.51%, -5.11%, and -0.06%, respectively, as of August 12, 2015.
You can read our exclusive coverage about investing in the PIIGS nations in our series Overview: A guide to investing in the PIIGS nations.
Let's move on to take a look at a key production report that came in South Africa, also on August 11.