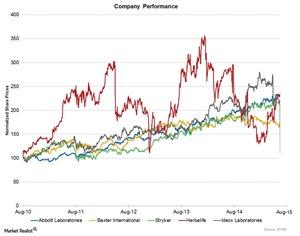 What Investors Should Know about Abbott Laboratories
By Mike Benson

Updated
Company overview
Abbott Laboratories is a US pharmaceutical and healthcare company headquartered in North Chicago, Illinois. It deals with the discovery, development, manufacturing, and marketing of a broad and diversified line of healthcare products. Its business is divided into four segments:
established pharmaceutical products
diagnostic products
nutritional products
vascular products
Before 2013, there was a fifth segment—proprietary pharmaceutical products. It separated to the new company, AbbVie, on January 1, 2013. To learn more about AbbVie, read AbbVie: Investment Insights into a Major Pharmaceutical Player. Abbott's products are marketed in over 150 countries.
Article continues below advertisement
Share price performance
The above graph shows the share price performance of Abbott Laboratories (ABT) compared to its peers. On an annualized basis, Abbott has delivered returns of 19.30% from August 2010 to July 2015. This is higher than its peers like Baxter International (BAX), Stryker (SYK), Herbalife (HLF), and Idexx Laboratories (IDXX). They delivered annual returns of 13.53%, 18.30%, 17.14%, and 4.04%, respectively. During the same period, the annualized return for the Health Care Select Sector SPDR ETF (XLV) was 23.53%.
History
Dr. Wallace Abbott founded the company. He started the production of alkaloidal medicine granules in 1888. Later, in 1894, the company was incorporated as Abbott Alkaloidal Company. Abbott opened its first international office in London in 1907. In 1916, Abbott produced Chlorazene—the first synthetic medicine that proved to be a breakthrough antiseptic. It was used to treat wounded soldiers in World War I.
In 1929, Abbott came with an initial public offering. Since then, the stock has grown in value over ~10,000x. Abbott acquired M&R Dietetics with its popular infant formula, Similac, in 1964. This made Abbott a leader in nutrition.
In 2013, Abbott created AbbVie—a new fortune 200 corporation—from its former proprietary pharmaceutical business.
Today, the company has ~77,000 employees in operations throughout the world.