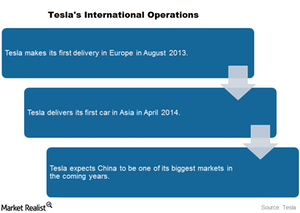 International Expansion Is Crucial for Tesla Motors
Tesla Motors
Previously, we looked at the Tesla Gigafactory, which could roll out its first battery cell as early as 2016. Batteries produced at Gigafactory would go into production of Tesla's Model-S, Model-X, and upcoming Model-3. Now, we'll look at Tesla's international operations.
Article continues below advertisement
Article continues below advertisement
Tesla's international operations
Tesla Motors (TSLA) has also expanded into international markets, as can be seen in the chart above. Tesla started delivery of its Model-S in Europe in August 2013, while deliveries in Asia commenced in April 2014. It has faced some success in Europe, where according to Jalopnik, Tesla is already the best-selling model in Norway. However, Norway has a reputation for being an environmentally friendly nation. The incentives provided by the Norwegian government have helped Tesla sell more cars there.
According to Tesla, its orders went up 50% year-over-year in Europe (VGK) in 2Q15. The growth in US orders was only about 30% over this period. Expansion into international markets is crucial for Tesla. It will have to follow the footsteps of other US automakers such as Ford (F) and General Motors (GM) to expand in overseas markets.
China
China has overtaken the US as the world's biggest automotive market. General Motors sells more cars in China than it does in the US. GM operates in China through joint ventures as well as wholly owned subsidiaries.
Tesla also believes that China (FXI) could be one of its biggest markets in the coming years. However, Tesla has faced several challenges in its China operations. We'll discuss these challenges and the steps Tesla is taking to overcome them in the next part of the series.