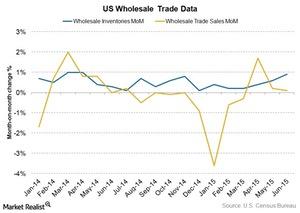 Indicators Suggest US Inventory Build-Up, SPY Falls 0.94%
US indicators on August 11 indicate inventory build-up
August 11 saw the release of a number of key indicator around the world. Wholesale inventory data was the most eagerly awaited in the United States. There were some important business sentiment and price-related indicator releases in Europe. Production figures from emerging markets (EEM) such as South Africa and Russia also gained investor interest. Let's start by taking a look at the indicator signals coming from the United States.
Article continues below advertisement
US wholesale inventories rose 0.9% in June
Wholesale inventory figures were released by the U.S. Census Bureau. Inventories rose by 0.9% in June as wholesale trade sales rose only 0.1% over May's figures. The figures exceeded median expectations of 0.4% for wholesale inventories and fell short of the low estimate of 0.3% for wholesale trade data. The US benchmark–tracking SPDR S&P 500 ETF Trust (SPY) fell 0.94% on August 11's close.
A build-up in auto and machinery inventories increased wholesale inventories up in June. SPY components such as Ford Motor (F) at 0.32% and General Motors (GM) at 0.22% are examples of auto manufacturers in the United States. Caterpillar (CAT) is a popular US farm and construction machinery manufacturer. These companies have gained and lost about +0.27%, -2.56%, and -5.64%, respectively, as of August 12, 2015.
The stock-to-sales ratio is critical
Stock build-ups are generally not good for the economy, as they indicate blocked capital. However, a modest stock build-up, along with a supportive rise in sales, could indicate increased orders and sale expectations in the near future. This would bode well for production and employment, as business activity is expected to rise.
In the United States in June, wholesale inventories rose considerably, by 0.9%, though trade sales registered a mere 0.1% rise in the month. So the stock-to-sales ratio rose to 1.30 for June this year. The ratio stood at 1.19 in June 2014.
Let's move on to assess business sentiment in the Eurozone in the next part of this series.