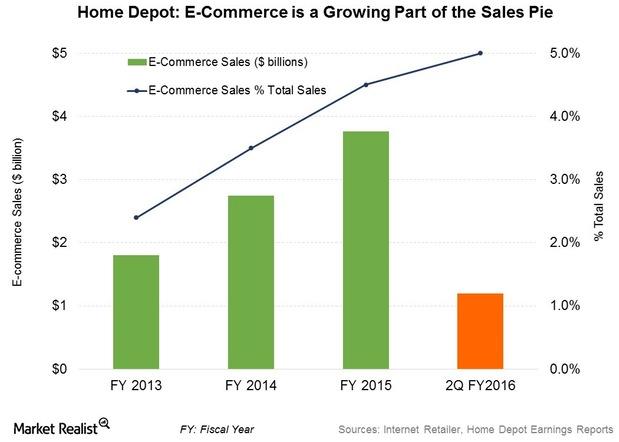 Home Depot's E-Commerce Business Grows 25% in 2Q16
Web sales for The Home Depot (HD) rose 25% year-over-year in 2Q16. E-commerce sales made up ~5% of total sales, or ~$1.2 billion, according to Craig Menear, CEO (chief executive officer), president, and chairman of the board for The Home Depot. The percentage of online sales to total sales increased. Web sales came in at 4.5% of sales or ~$3.8 billion in fiscal 2015.
In contrast, Restoration Hardware (RH) derived 49% or ~$207 million of its sales from online sales in 1Q16, which ended May 2, 2015. Sales for e-retailer Wayfair (W) grew more than 80% to ~$440 million in the last quarter. In comparison, the world's largest e-retailer, Amazon (AMZN), grew net sales ~20% to $23.2 billion in the second quarter.
Article continues below advertisement
Article continues below advertisement
 E-commerce drivers
The Home Depot (HD) reported traction in e-commerce orders filled through its multichannel programs Buy Online, Pick Up in Store (or BOPUS) and Buy Online, Ship to Store (or BOSS). The company's third fulfillment center in Ohio is expected to come on stream in 3Q16. According to Menear, this facility, together with the two recently opened in Georgia and California, will enable HD to make shipments within two days or less to serve ~90% of the US market.
Implications for sales growth
Web sales are an important growth driver for US retail (SPY) sales overall. The United States Census Bureau reported that second quarter US e-commerce sales rose 14.1% year-over-year to $83.9 billion, constituting 7.2% of total US retail sales. That's up from 7% in 1Q15. Overall retail sales grew 1% year-over-year in the second quarter to $1.17 trillion. The annual growth in e-commerce sales is more than 87% of the growth in overall retail sales.
Higher e-commerce sales also tend to benefit average ticket size, as online orders often involve bulkier items that can't be picked up in-store. A higher percentage of web sales also tends to improve store productivity metrics.
The Home Depot (HD) is among the top ten holdings of the Vanguard Consumer Discretionary ETF (VCR) with ~4.8% of the portfolio's weight.